Antique photos have some haunting and gloomy charm that makes one feel moody and nostalgic without knowing why. There's some phantasmagoric magic to these images produced by undeveloped cameras and chemicals, that still fascinates us, even in the 21st century.Not too long ago we released a pack called Obscura No.39 for Affinity Photo. This packs is heavily inspired on those antique photo-developing processes from the 19th century.
Obscura No.39 for Affinity Photo is one of the most… well, obscure packs available in Frankentoon Studio's Marketplace. Today, we want you to have a small taste of it, in case you don't own it yet.
Free Resources
Here's a small sample of Obscura No.39 for Affinity Photo. This download includes:
2 Tone Maps (Tone Mapping Persona)
5 Macros
4 Overlay Textures
Step 1: Tone Mapping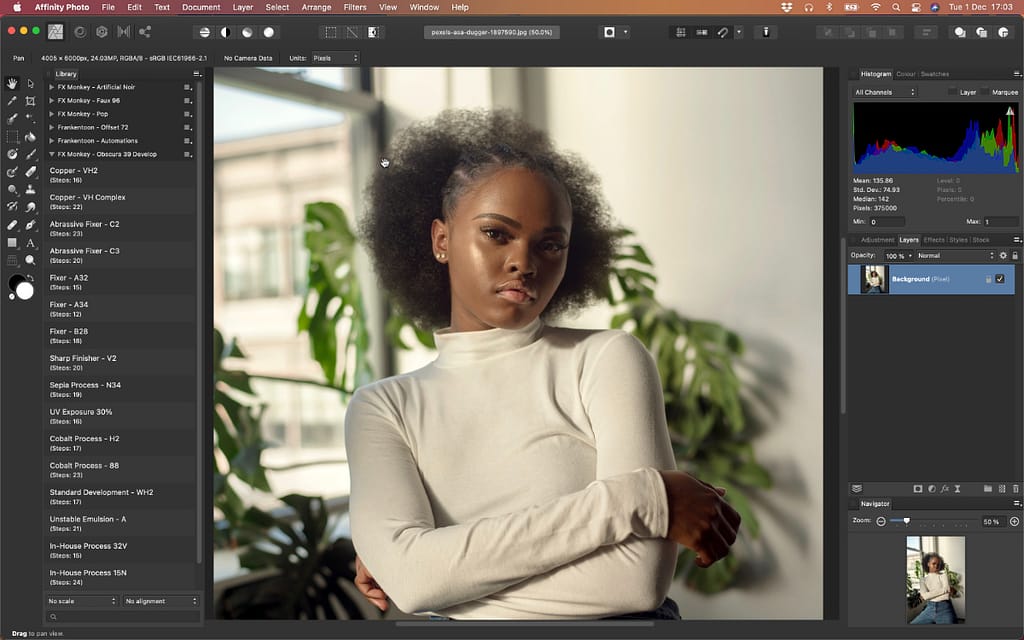 The first step to get an amazing 19th century photography emulation, would be tone-mapping our image. Tone Maps are the core of this pack.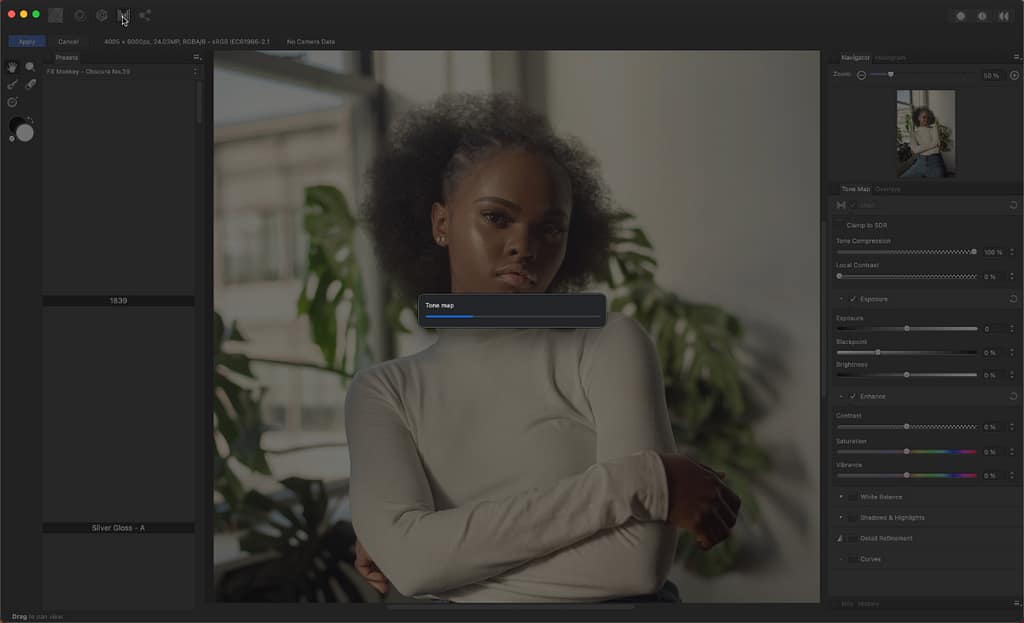 Switch to the Tone Mapping Persona. Wait until the interface is fully loaded. This may take a while, depending on your desktop machine or iPad's specs.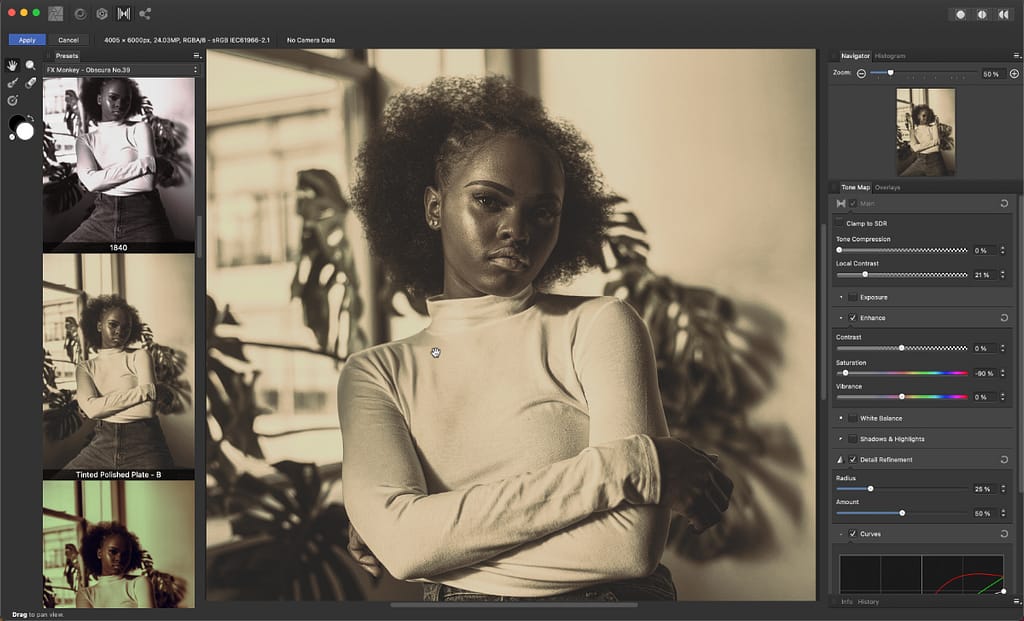 From the full version of FX Monkey – Obscura No.39 presets list, you'll be able to choose between 28 maps. From delicate muted greyscale tones; to aged, damaged, and subtly tinted shadows and highlights.
Step 2: Texturing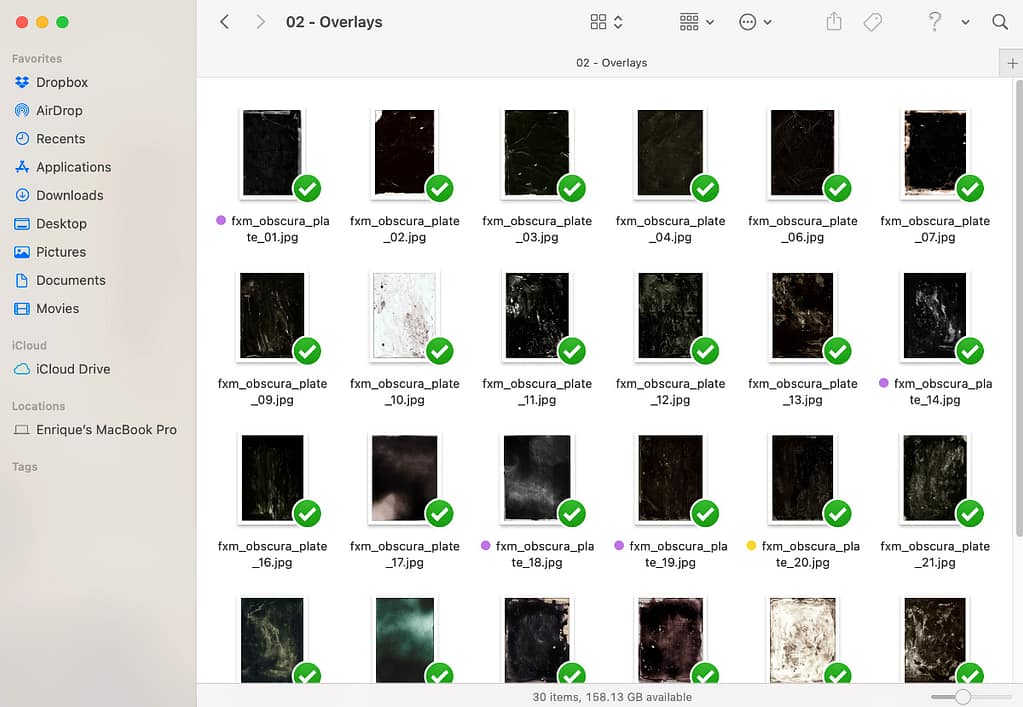 Place one or more overlay textures into your document. These textures should be used in conjunction with layer blending modes, being the most common: Screen (darker ones) and Multiply (lighter ones). You can use as many textures per image as you want.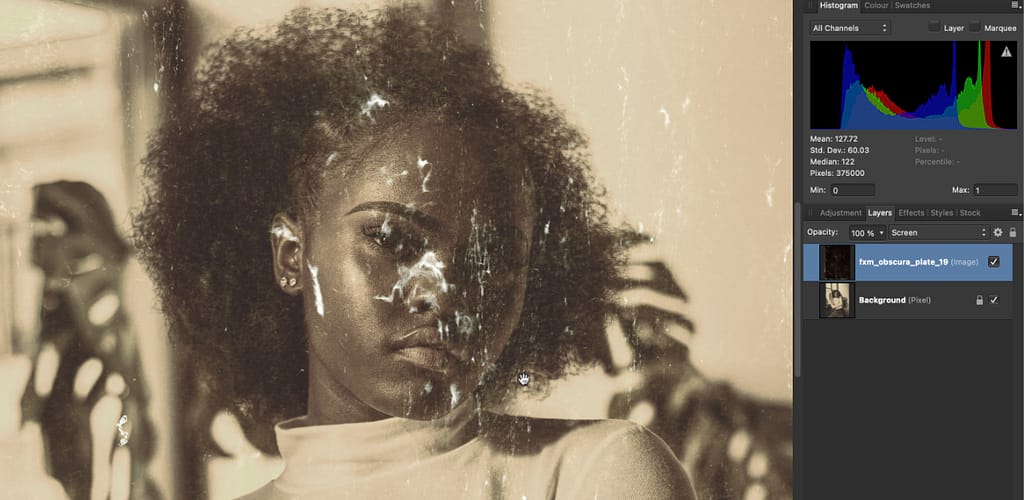 On the image above, we used the plate No.19 in Screen mode.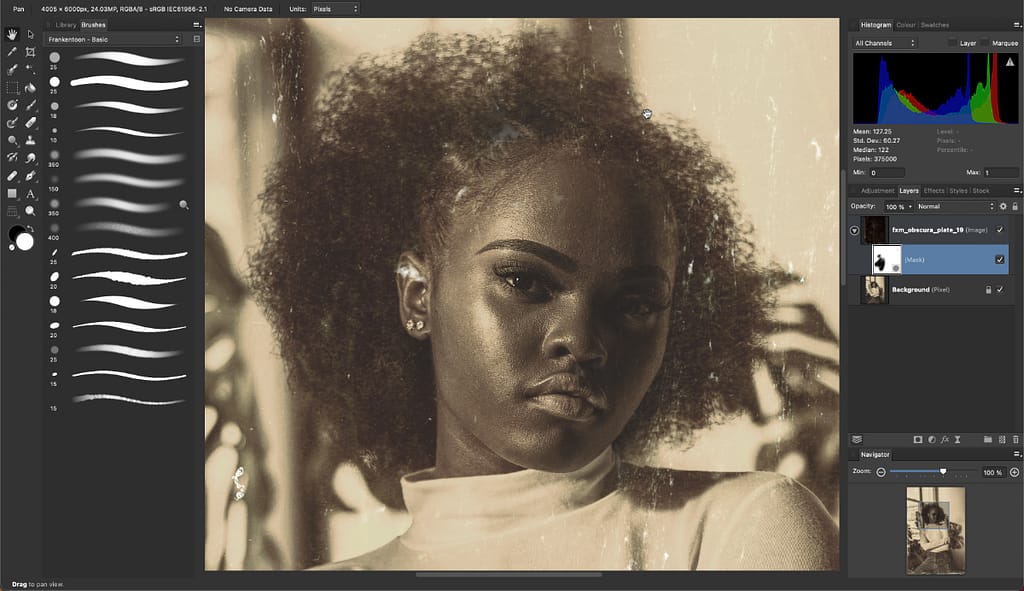 Since this texture is covering up our model's face, I'll use a layer mask and will paint away all unwanted scratches. Remember you have all the power of Affinity Photo backing you up to fine-tune and edit any detail you want.
To make our final image more interesting, we placed a second overlay texture on top (Plate No.26).
Since this is a light texture, we set this plate's blending mode to Multiply. We'll see a little bit later how we can manipulate these textures even further.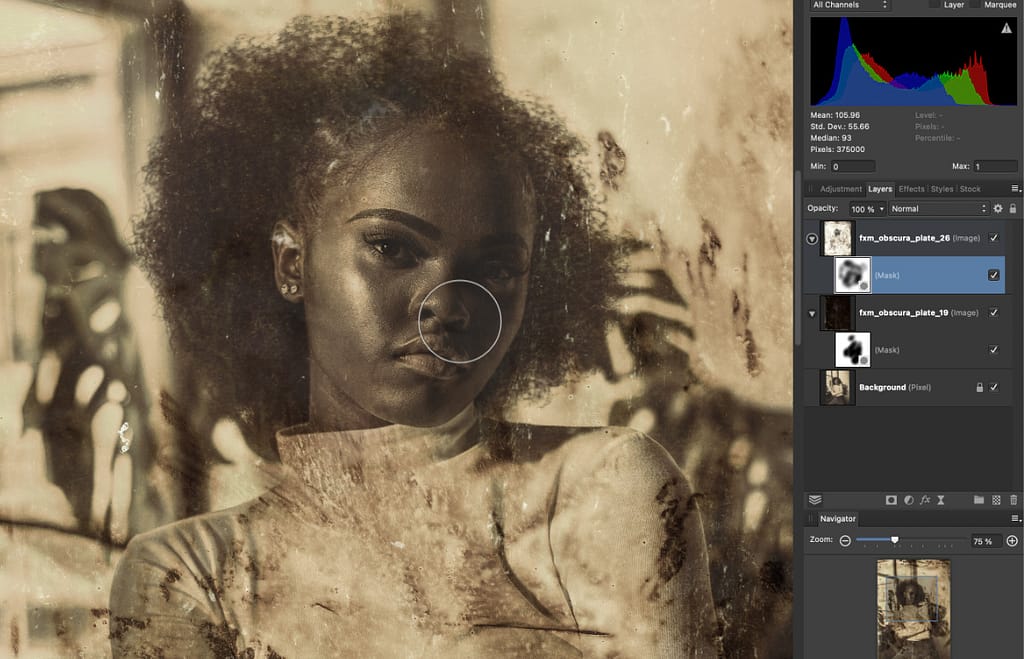 Since part of this texture blocks our model's face again, we've created another layer mask to clean it up. Using a soft brush, we got rid of the specific parts of our texture that were getting in the way. Using masks is the smartest choice, in case you change your mind later.
Step 3: Obscura No.39 for Affinity Photo Macros
When you apply Tone Maps and different textures onto your original image, lights, shadows, mid-tones, and general hues tend to end up looking uneven. That's why we created several Macros to simulate different 'developing' processes. These Macros will make all elements come together and give you a more polished result.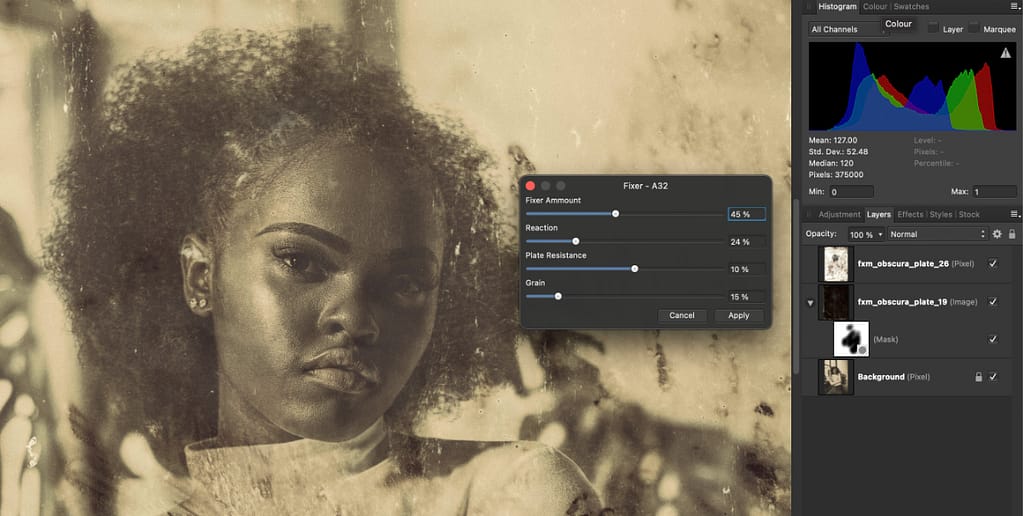 Some of these are one-click Macros. Most of them will give you extra options to fine-tune the ending result even further. Obscura No.39 for Affinity Photo offers you tons of room to experiment and manipulate how your image will be developed.
In the picture above, I've used the Macro called Fixer – A32. This particular Macro features these settings:
Fixer Amount, which refers to the 'quantity' of the fixing chemical applied onto the photo.
Reaction, which controls how the fixer behaves against the plate.
Plate Resistance, which controls how much of the fixer gets 'glued' onto the plate. Finally, Grain is very self-explanatory.
Of course, you don't need to know exactly what each slider does. The best and most fun way to find out is to try them out separately and play around with their settings.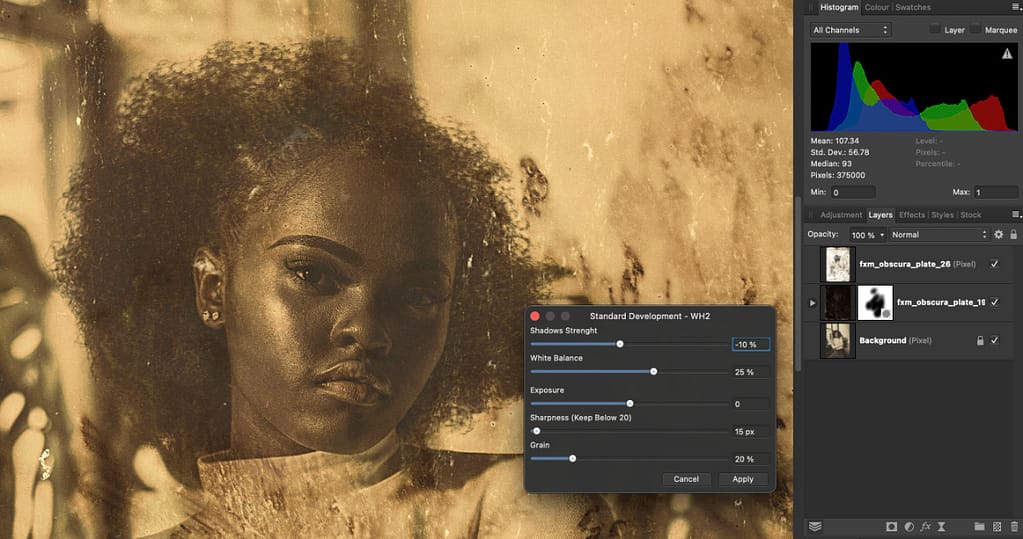 Another example. the example above we've chosen Standard Development – WH2. As you can see, both Macros will lead you to entirely different results. You'll even get various looks from the same Macro using different settings.
TIP: Add a Vignette
The portrait above, looks great, but we could make it look even closer to vintage portraits. Adding a Vignette Filter before the tone-mapping step, will add an instant antique resemblance to any photo. This way, all coloring, texturing and developing, will affect this vignette, along with the original photo.
Tip: Dial up Tone Compression
Sometimes, you'll end up with some unpleasant 'muted' tones on your photo when applying a Tone Map. To achieve a true vintage look, most of the presets will take away some highlights from your image.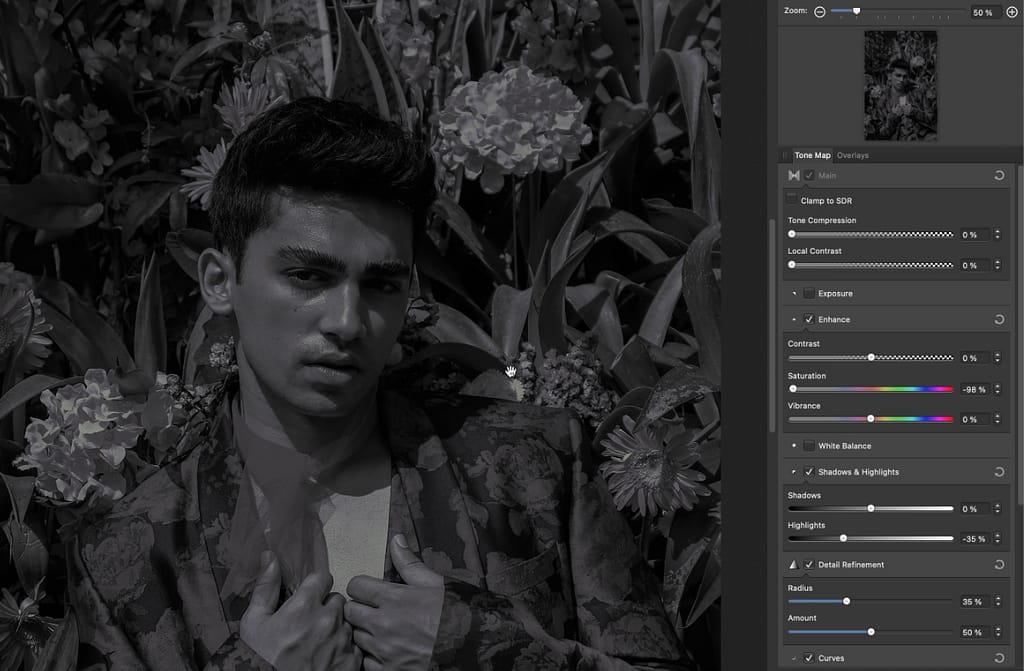 Fixing this is quite simple. When still in Tone Mapping Persona, go to the Tone Map Panel and move the Tone Compression slider to the right. This will gradually bring your highlights back.
Tip: Tweak your Textures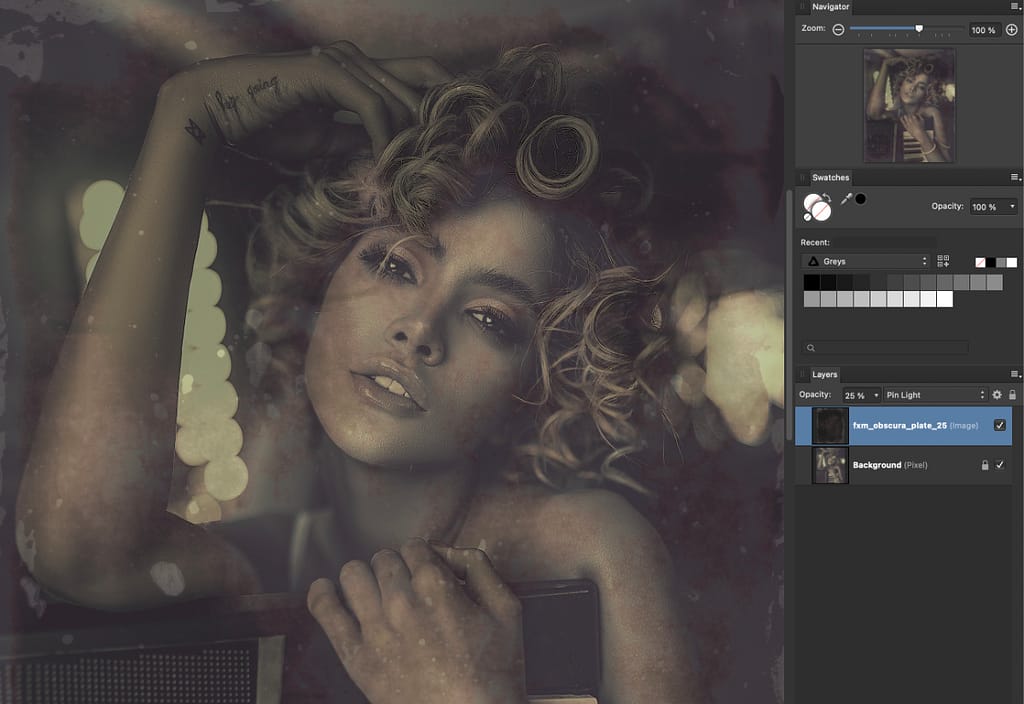 In the image above, we've used the Copper Plate '32 Tone Map. Then, in Photo Persona, I've added the texture Obscura Plate 25 in Pin Light mode, at 25% opacity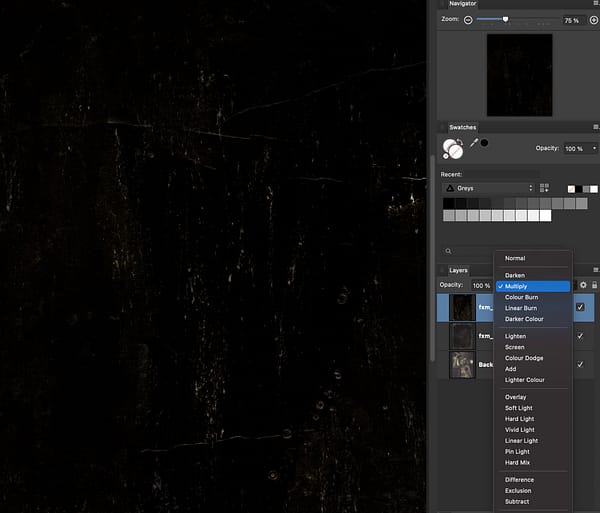 We wanted to add some kind of dirt on top of it. So we placed the texture Obscura Plate 20 in Multiply mode. Of course this texture set to Multiply will turn everything dark.
Since what we want to keep from this texture is its subtle scratches, we clipped an Invert Adjustment Layer to this texture. All scratches turn dark, and the darker tones get transparent. Depending on what you need, you can apply all types of adjustments to your textures: Curves, Levels, Color Balance, etc.
You can layer up as many textures as needed, experiment with their blending modes and opacity percentages to create an entirely new organic look of your own. Use masks to add or remove parts of your texture. The more textures and adjustments you add to an image, the more uneven it's gonna look.
Adding any of the developing Macros included with the pack as the final touch, will help you make your final image to look more homogeneous.
Tip: Think Outside the Pack
What happens if I'm not really into 19th style photos, but I still love retro photography? By adjusting some settings, I'd be able to bring my images not too back in time. But, maybe, 20th-century photos resonate more with you?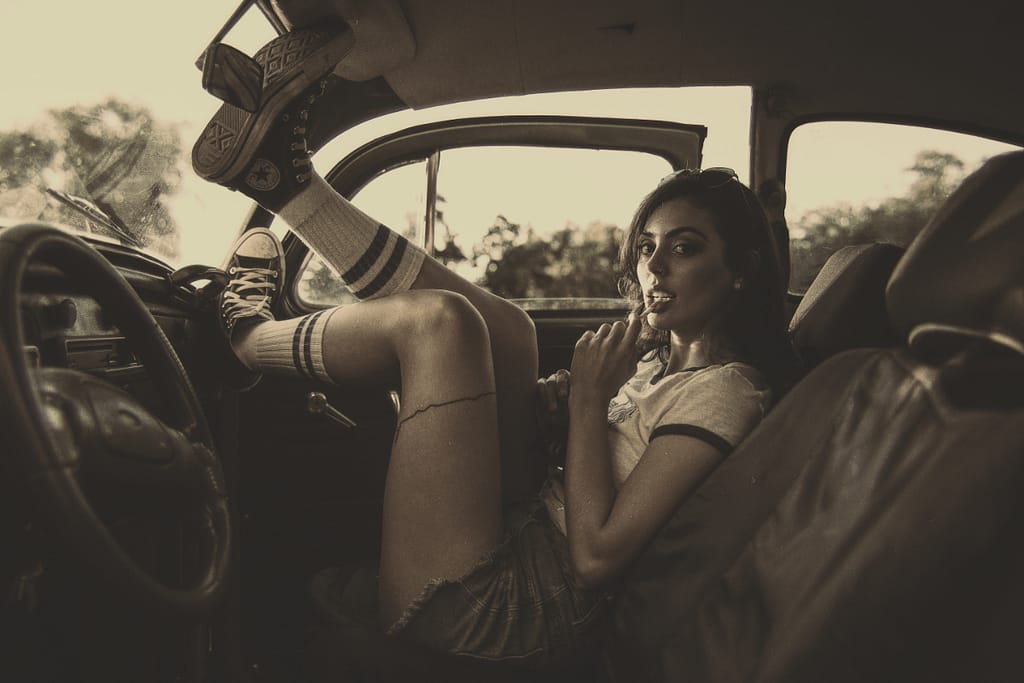 In this case, I just want to add a subtle vintage look to my original photo. So, I duplicate it and save a copy. Then I applied a Tone Map to this new copy.
And finally, I placed the result on top of my original image at 50% opacity. As you can see, the this new composition resembles more a 70's instant photo instead of a 19th-century daguerreotype. Again you can try various blending modes, Tone Maps and layer them up on your regular photos to get some interesting results. You have an entire vintage photo studio right inside Affinity Photo. The fun never stops, my friend!
Tip: Skip Textures
Since we don't want this image to look that old, we can skip using textures and jump onto the developing Macros right away. We've added some warmth to this image with the help of the UV Exposure 30% preset.
As you can see, the most important rule to use this pack is that you don't need any rules at all.
Conclusion:
I hope you've had some fun using these Tone Maps, Textures, and Macros. The free pack included with this tutorial should give you enough for spending hours of fun playing around with professional and casual photos alike. You can even try them on finished illustration works to see how they turn around. In case you feel curious and want to give the entire pack a shot, you can check all the information HERE or Purchase it right away.