Oh boy, we love textures! Photographic textures are one of the most fascinating things to look at. Random spots of dirt here, scratches there, unusual patterns all over… You can crop just a portion of an image texture and create something abstract and beautiful out of it!

When you combine textures with regular photos, you discover a new magical world ahead. From subtle dust speckles to abrasive scratches and spilled-on-surface splatters mayhem; textures may change the game of your artistic photography forever.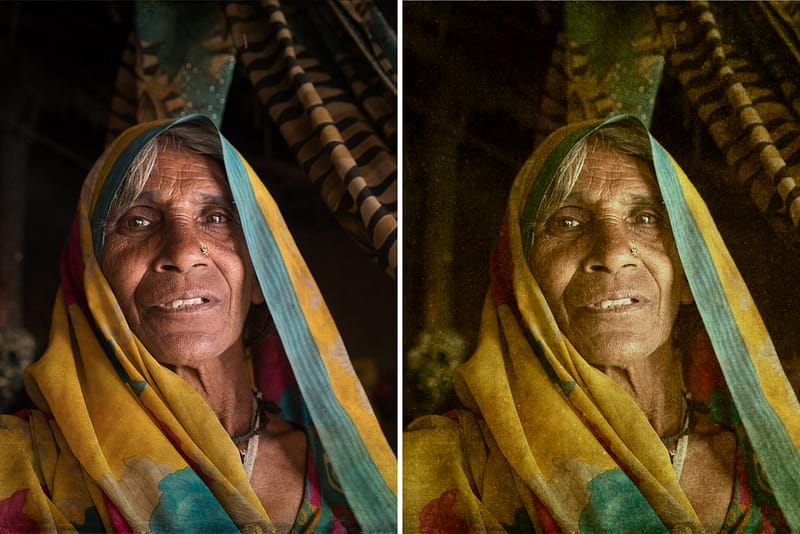 The photo above (on the left) has been beautifully captured; the expression on the lady's face, the lighting, the overall atmosphere, simply captivating. From an artistic point of view (which is always debatable), probably would still look 'too clean', it lacks certain organic nature to it. That's where textures may add something else to the equation.
Now, take a look a the other photo on the right. All the attributes we mentioned before are still present, but also have been enhanced by the simple addition of a texture image on top.
Textures are generally used to enhance the overall look of a photo; they're usually applied in a way, that it blends in with your images seamlessly (using blending modes).
How to apply them:
This method is quite simple and it won't take you more than 5 minutes to have an image texture properly blended onto your photo.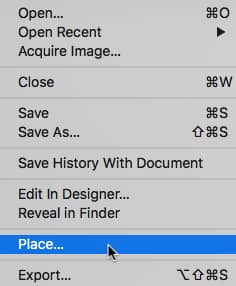 Open the photo you want to have the texture applied on. Then go to the top menu File > Place… and browse for a texture image you'll be using.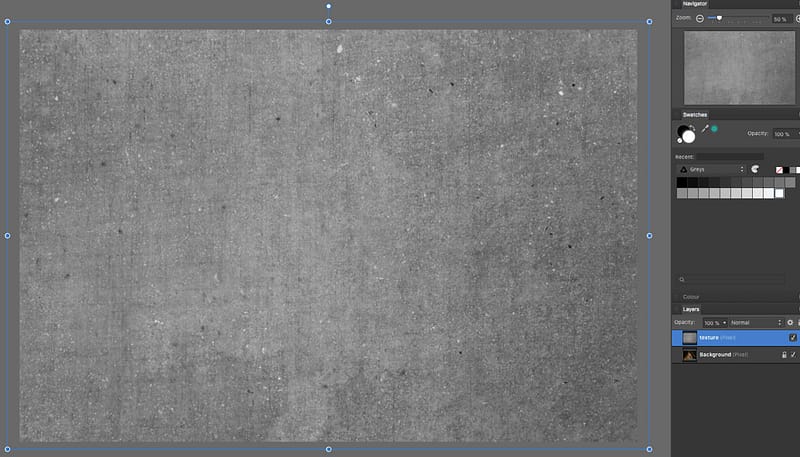 Fit the image across the canvas by dragging it diagonally with your mouse or, just click directly on the canvas to place your image at its actual size.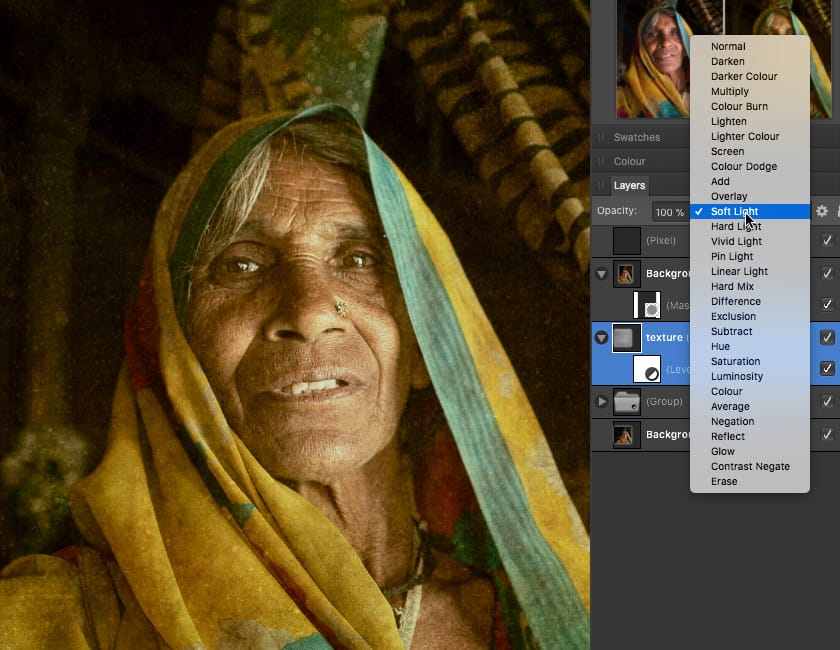 Here's where it gets interesting. Select the texture you've just imported from the Layers Panel and start playing with Blending Modes to mix both images. For this particular photo, I've used Soft Light. You may notice hoy subtle and natural this mode looks like; it adds some organic richness to the image, as if the photo was developed by an analog method and suffered some damage in the process.
However, when using Vivid Light to blend our texture, the digital process looks pretty obvious. Although it looks very interesting anyway. Affinity Photo has to date, 30 Blending Modes to choose from, so you have plenty of options to play around here. Don't forget to tweak the opacity slider to make your effect subtle or more aggressive.
Editing textures 'live'
In our mini-article about Macros, we roughly explained how non-destructive Adjustment Layers work; these same Adjustment Layers can also be used to drastically change how an already applied texture behaves and, thanks to the non-destructive character of Affinity Photo Filters and Adjustments, you can preview these changes on the fly.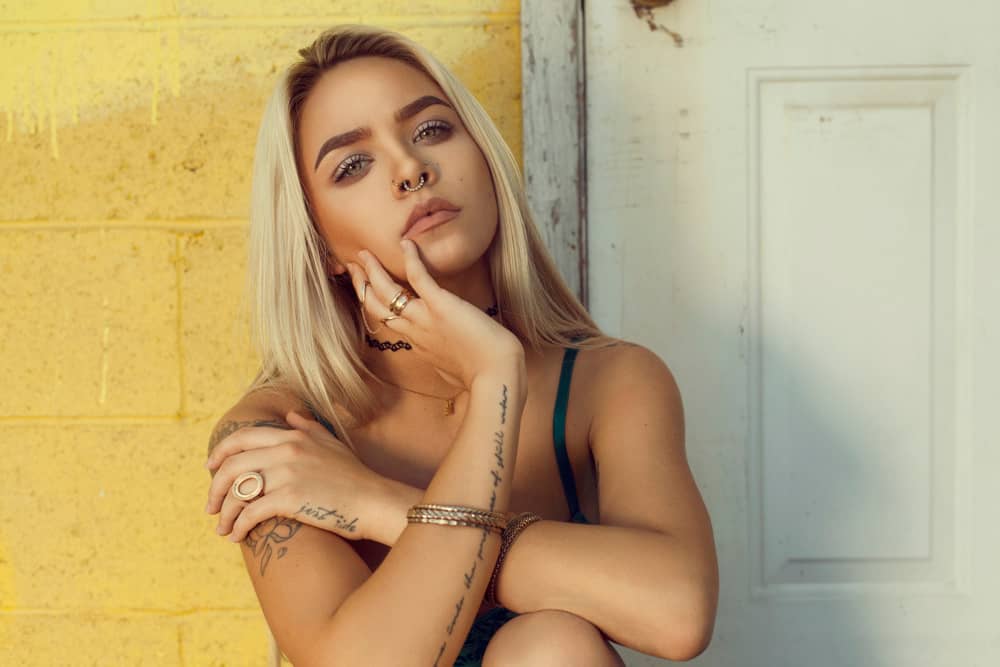 Let's take for example, this photo.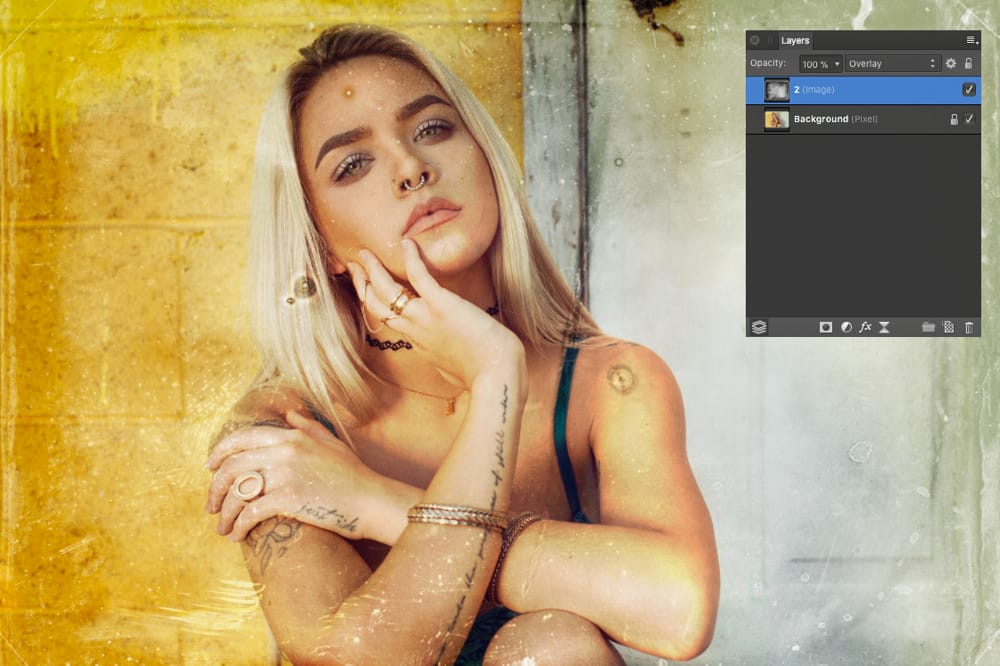 I've imported a texture and applied an Overlay Blending Mode to it. Looks, great; Although her arm got a little bit overexposed, we'll leave it at that for now. Despite I like the overall look of the texture, I'd like to boost its Contrast.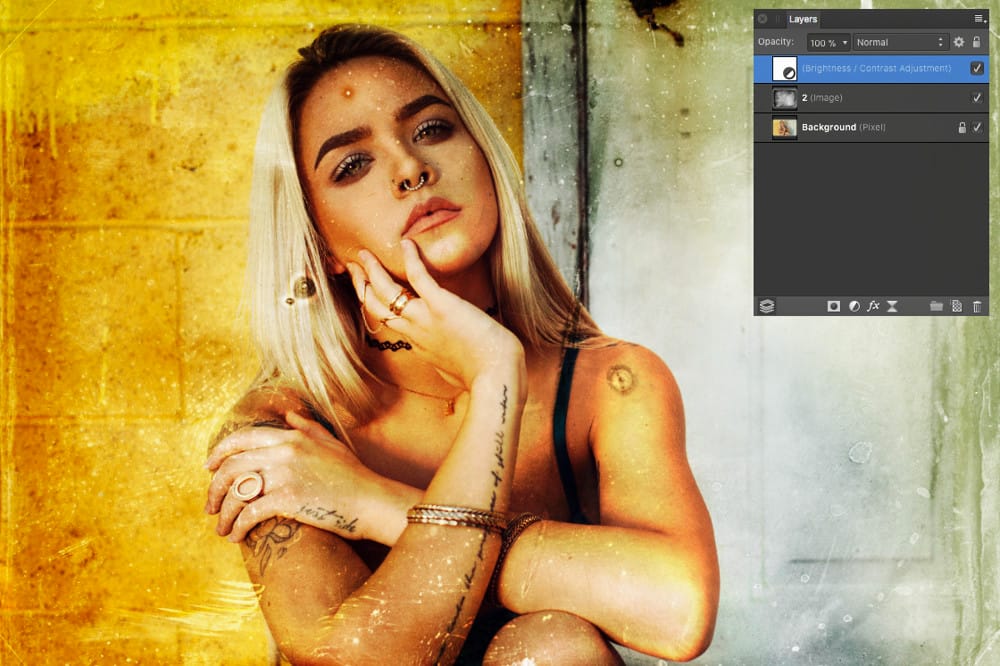 So I add a Brightness/Contrast Adjustment layer on top using these settings:
Brightness: -20%
Contrast: 70%
And I went too far on it!
I'm using some extreme values to illustrate the demonstration more clearly. And as expected, the Adjustment, affected the overall picture, even though I only wanted to modify my texture. It looks kinda cool actually, but I'm going after a less extreme effect.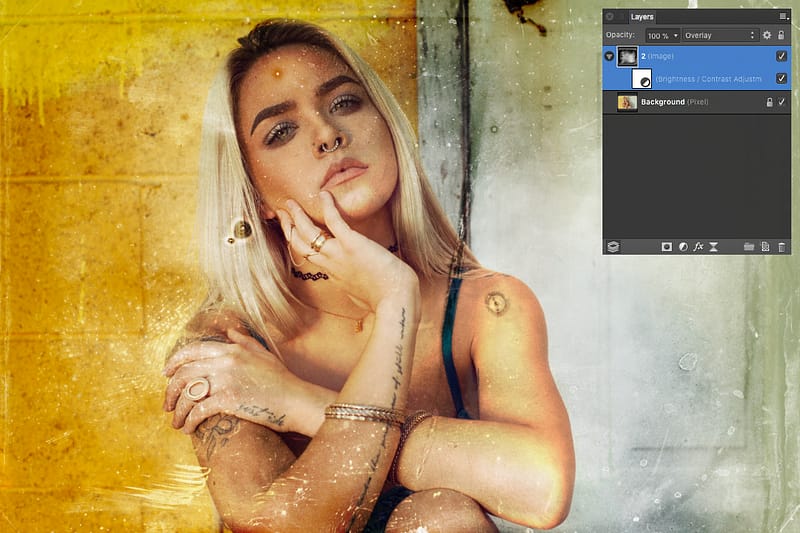 So I drag my Adjustment Layer onto the texture thumbnail in the Layers Panel and create a mask, so the Brightness/Contrast settings only affects the texture.
Now this is more like it.
Only imagine the possibilities you have in your hands once yo combine Textures, Adjustments and Filters together…