Introduction:
In this new art break-down, we'll looking at the process and key steps followed by Frankentoon's illustrator, Enrique Figueroa, to create an hybrid illustration using vector graphics and Frankentoon's best-seller Concept Master Vol.1: Nature brush pack for Affinity Photo and Affinity Designer.
NOTE:
Although the title of this post says "Affinity Photo for iPad", this process works perfectly using Affinity Designer's Pixel Persona and for Mac and Windows platforms alike.
1. Sketch /Line Work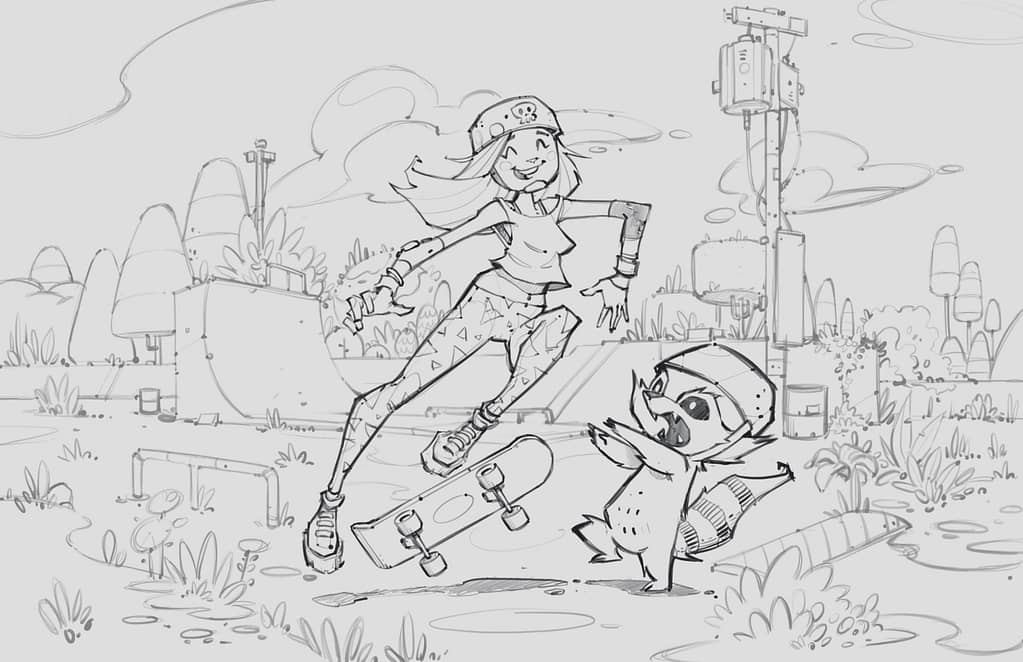 Using a regular custom-made sketch brush, I created the base line work. At this stage you don't need any fancy brush whatsoever, the default ones that comes packed within the app would do the job. This part was made using Affinity Designer for iPad's Pixel Persona and raster brushes.
2. Inking and Flat Coloring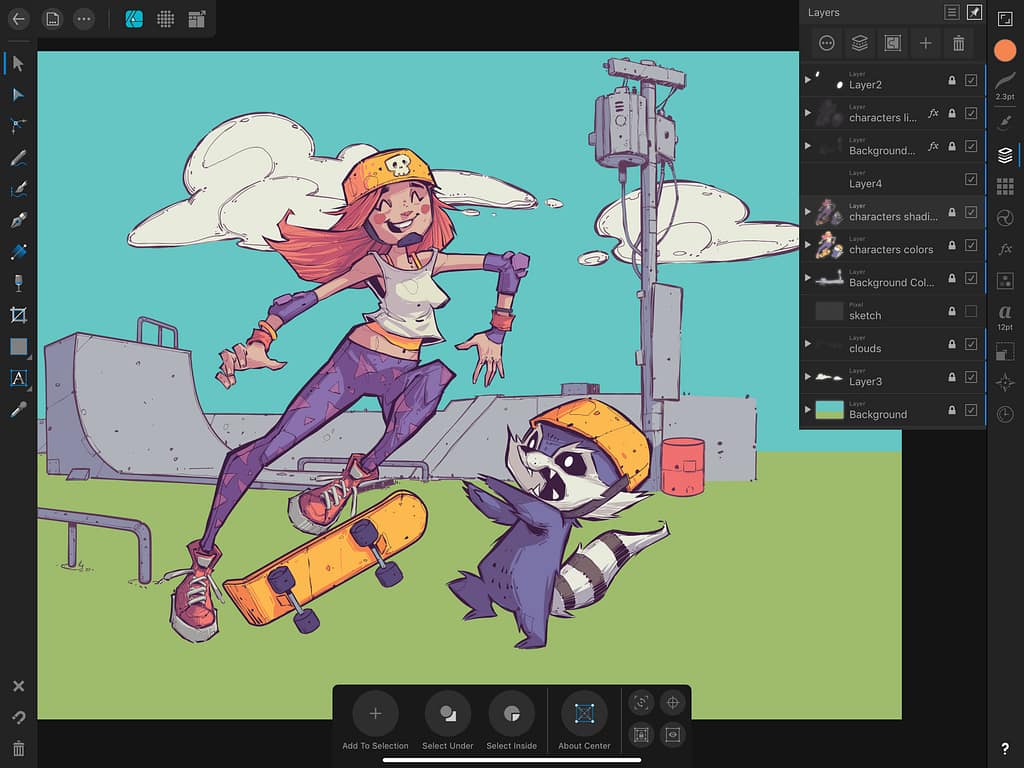 Using vector brushes and the Pencil Tool, you can convert your sketch to clean digital inks. If you want to learn more about digital inking in Affinity Designer, check out this tutorial: Comic Book Illustration in Affinity Designer
Then, with the help of Designer's Pen Tool, your can create paths to block the main shapes of your illustration and add some basic coloring to have a general idea of the mood you want for your scene.
3. Raster Brushes
After I blocked the main shapes and colors using vector paths, I opened my artwork in Affinity Photo for iPad. I would've loved to say that I did this because there's a magic trick in Photo that helps you paint better nature elements… but, nope. I actually did it this way because I use to test all Frankentoon packs in every app and platform and, this illustration was made to test the brushes in Affinity Photo for iPad.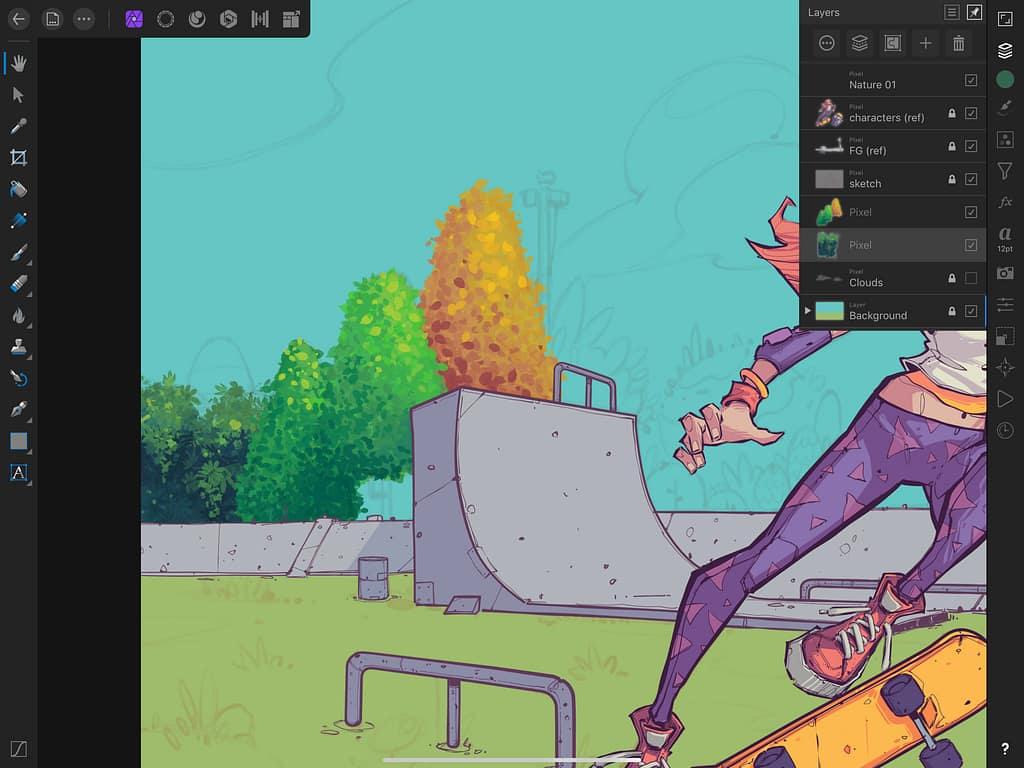 You can perfectly paint all the raster part using Affinity Designer, just by switching to Pixel Persona. Since this is not a step-by-step tutorial, but a demonstration of our Nature Brush Pack, you can learn more about using raster brushes here.
Where were we? Oh yes, using my original sketch as a guide, I start blocking the shapes of the trees ands bushes using very few colors to indicate shadows, mid-tones and highlights. The fewer colors you use, the cleaner your elements will look.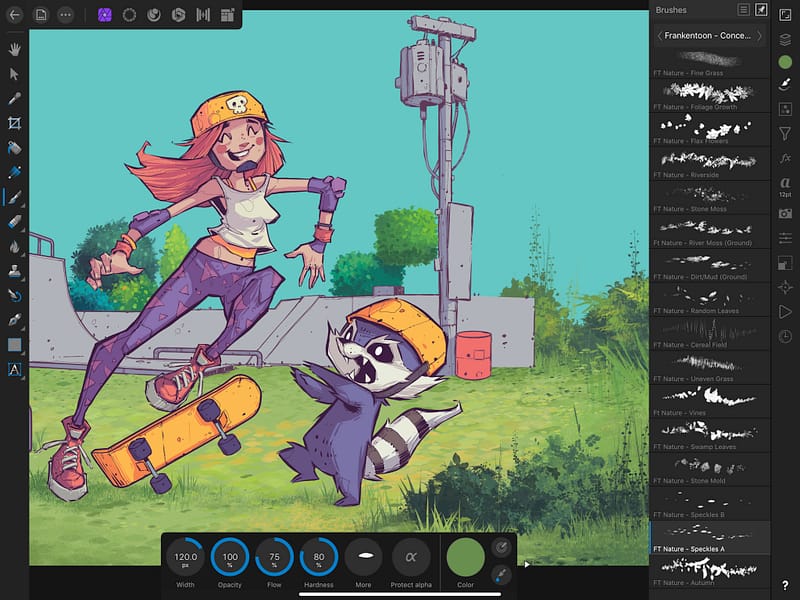 Then I use Ground, Weeds and Grass brushes to add and uneven and organic feel to the ground where my main characters are interacting. This contrast between flat vectors and more realistic raster graphics, adds a nice sense of depth to cartoony illustrations.
If you want to know more about what each brush of our Concept Master Vol.1: Nature pack does in detail, you can download a very handy Brushes Guide from THIS LINK.
4. Details, details, details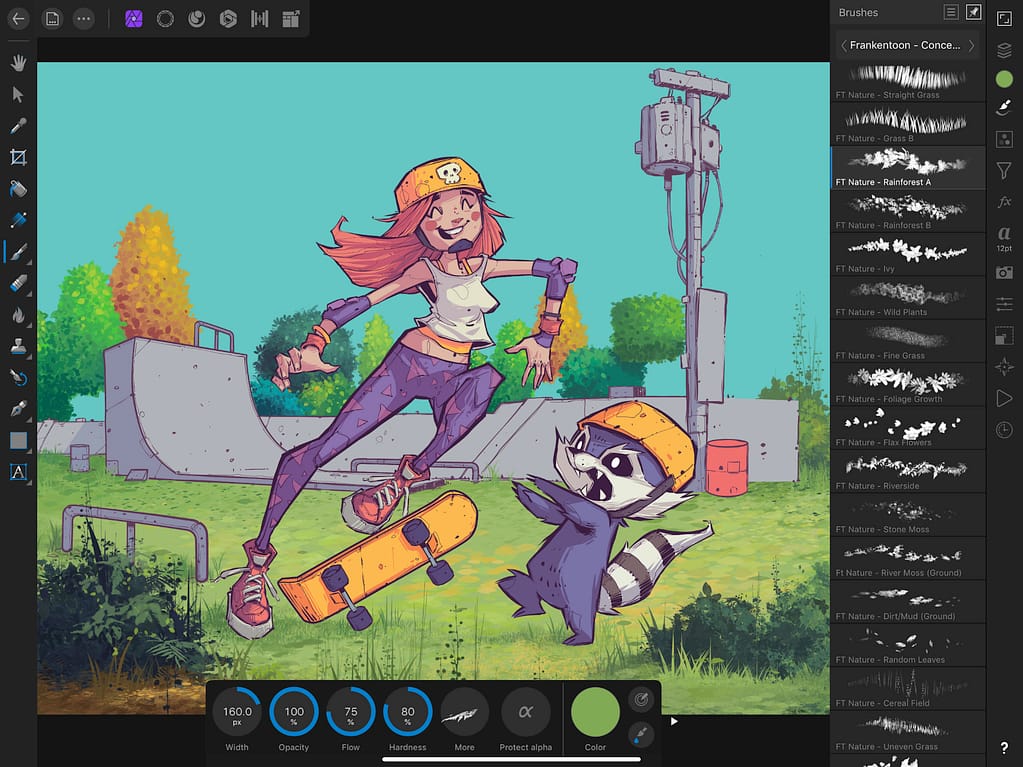 Using a mix of wild leaves, bushy and random grass growth brushes, I'm able to create more aleatory vegetation, which always looks more natural.
Brushes' names may give you some hint or a full description of what they were designer for; however, it's a good idea to just ignore the name and experiment with different brushes for different purposes, maybe you'll stumble upon a happy accident, or maybe a not-so-happy one… it really doesn't matter, as long as you have the power of UNDO in your hands.
Tip: Don't get 'trapped' by brush names, always explore other ways to use them, apart from what their name implies.
I keep painting details in the background, to add even more depth to my scene. Using the Smoke/Clouds set of brushes from the Nature pack, making puffy and soft clouds is a very easy task.
Happy painting, folks, see you next time!