In today's delicious tutorial we're going to learn how to use Affinity Designer's FX Panel to assist you in your illustration process by saving time avoiding drawing every single detail by hand.
1. Popsicle Base
Spoiler : we'll be using the Rectangle Tool all over this tutorial.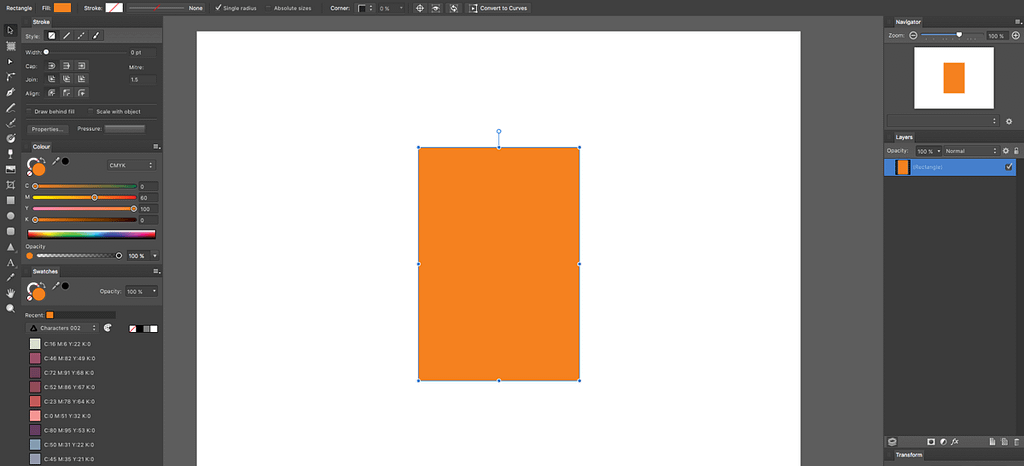 First, add the most basic shape ever, a rectangle.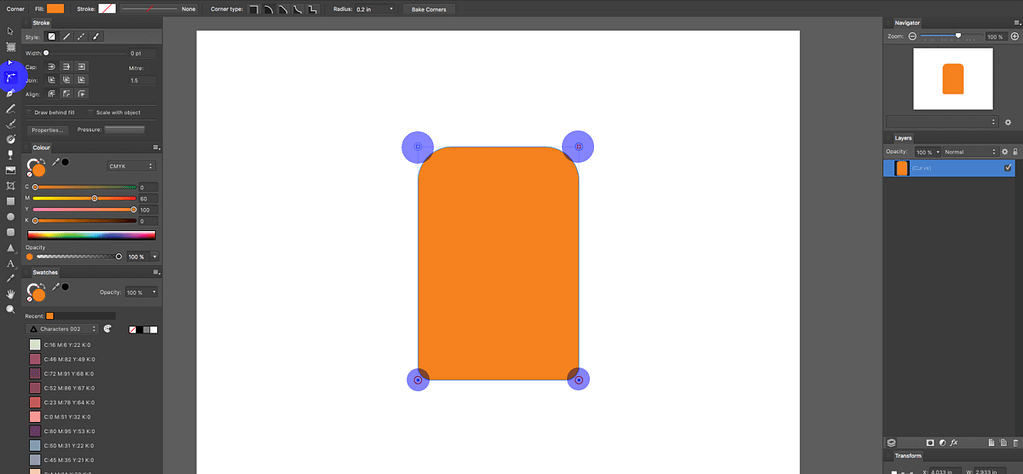 Select the Corner Tool and reshape it using a bigger radius for the top corners and just add a slight roundness to the bottom ones.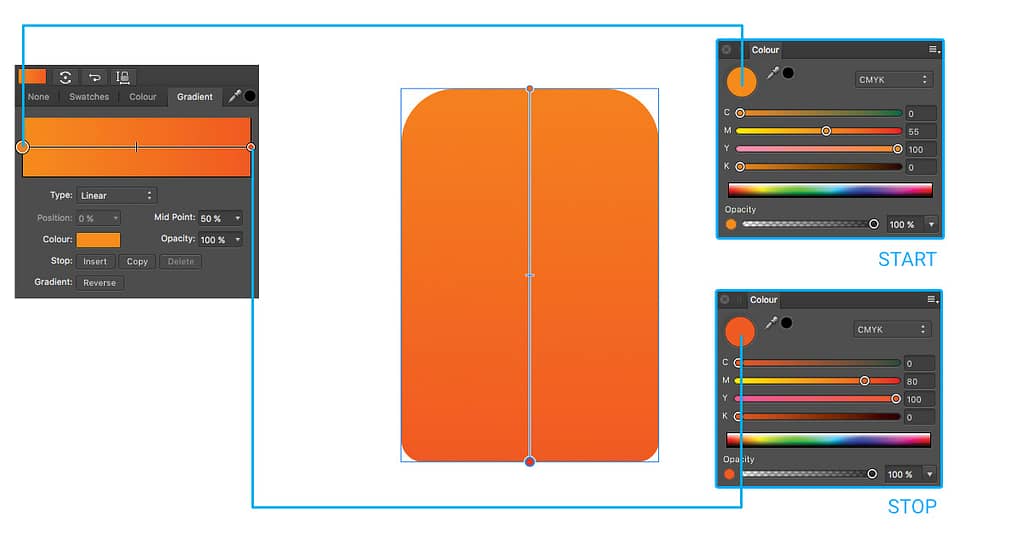 Select the Gradient Tool [G] and fill the shape from top to bottom as shown in the picture above:
Top color: 55% Magenta (M) and 100% Yellow (Y). Leave the rest of the colors at 0%
Bottom Color: 80% Magenta (M) and 100% Yellow (Y).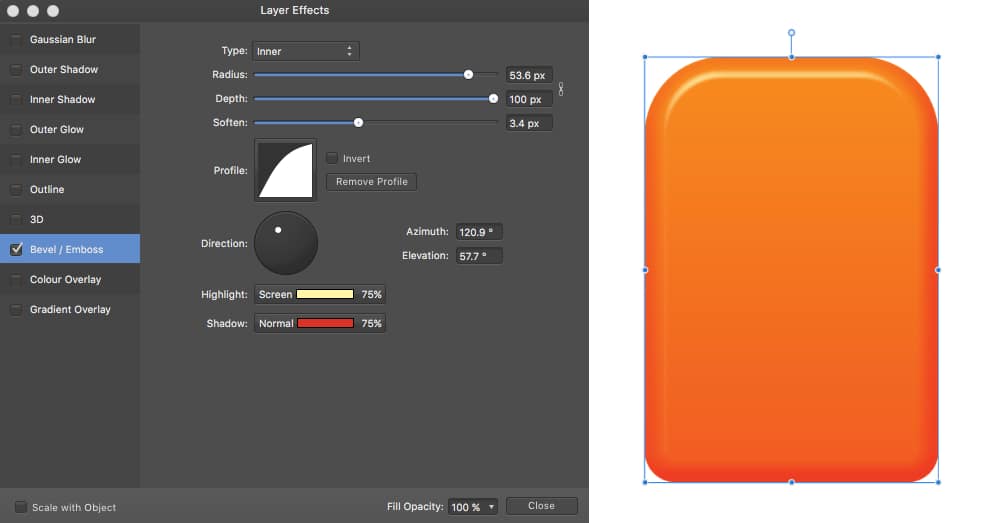 Now, let's add a nice 3D effect. We could be spending a half hour drawing all the lights and shadows by hand here, or we can work smarter by using Layer Effects and get it done in 2 minutes. To add a Layer Effect to any shape, select the [FX] icon located at the bottom of the Layers Panel.
Copy the settings from the picture above, adjust the Radius, Depth and Soften settings to your liking. They will behave differently depending on the size of your document.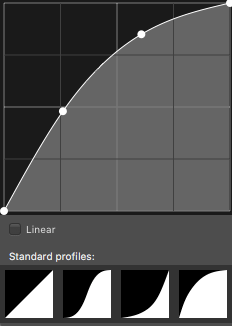 In the Profile section draw a curve similar to the one of the image above. For the Highlight and Shadow colors use these values using the CMYK sliders:
Highlight: B42% Yellow (Y), leave the other colors at 0%, use a 75% opacity and set the Blend Mode to Screen.
Shadow: 95% Magenta (M), 100% Yellow (Y), set the rest to 0%. Then set the opacity to 75% and the Blending Mode to Normal.
Looking pretty cool already isn't it?

Now, let's draw another rectangle and fill-in it with the same gradient colors we used before, but switching the colors (FIG A) and using the Corner Tool select all corners and add just a slight roundness (FIG B), then duplicate this shape (FIG C).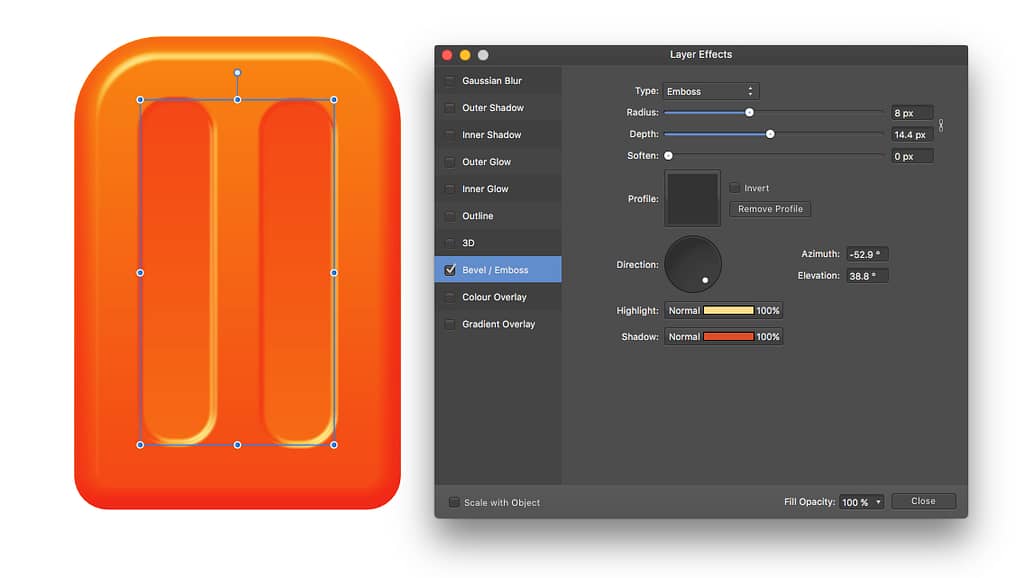 Select these new shapes and make them a Group [Mac: Command+G, Win: Control+G]. Then apply a Bevel / Emboss effect to this new Group.
Type: Emboss
Radius: 8 px
Depth: 14.4 px
Soften: 0 px
Profile: Select the option Remove Profile
Direction Azimuth: -52.9%
Direction Elevation: 38.8%
Highlight: Color 10% (M), 52% (Y); mode Normal and Opacity 100%
Shadow: Color 83% (M), 100% (Y); mode Normal and Opacity 100%
2. Popsicle Stick
To create the wooden stick let's draw (you guessed it) another rectangle (FIG A), round its bottom corners and fill-in it with the Gradient Tool using these values using the CMYK sliders:
Top Color: 67% (M), 67%(Y), rest 0%
Bottom Color: 26% (M), 57% (Y), rest 0%
Then add another Bevel / Emboss effect, using these values: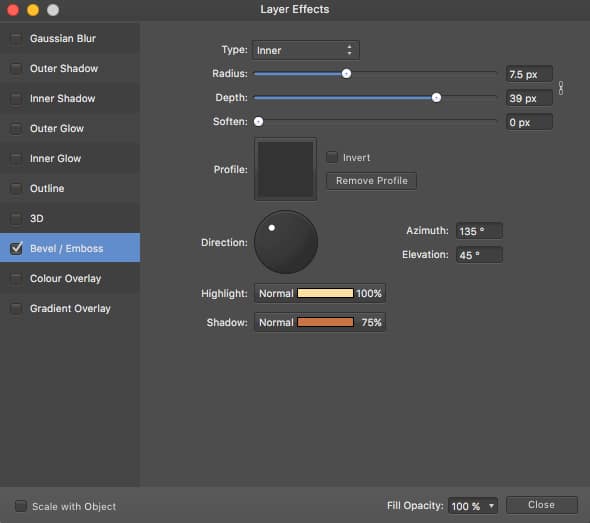 Highlight: 10% (M), 41% (Y); Normal Blend and 100% Opacity
Shadow: 14% (C), 61% (M), 83% (Y), 0% (K); Normal Blend and 75% Opacity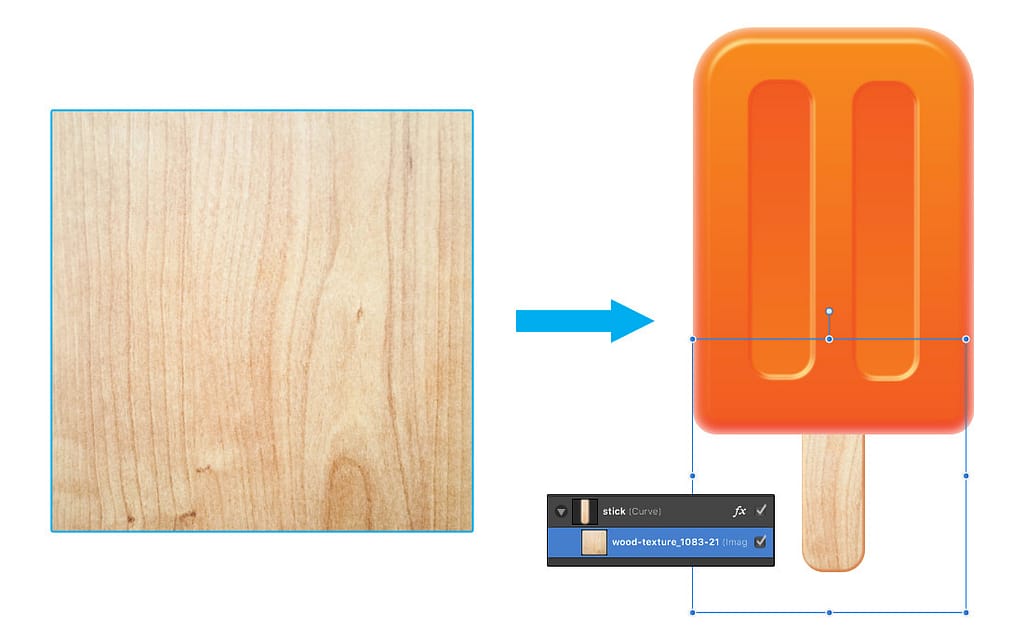 As a final touch, let's add a nice wooden texture to the stick, using the method shown in THIS TUTORIAL. You can find lots of cool wooden textures online. Just make sure to look for non-copyrighted material. For educational purposes it's ok to run a search on Google Images. But if you want to post your work anywhere, I don't recommend this last option.
Once you've embedded the wood texture, you may want to play with its Opacity and Blending Mode (located at the top of the Layers Panel). For this one I selected Multiply with 50% Opacity. And we're done with the first popsicle.
3. Second popsicle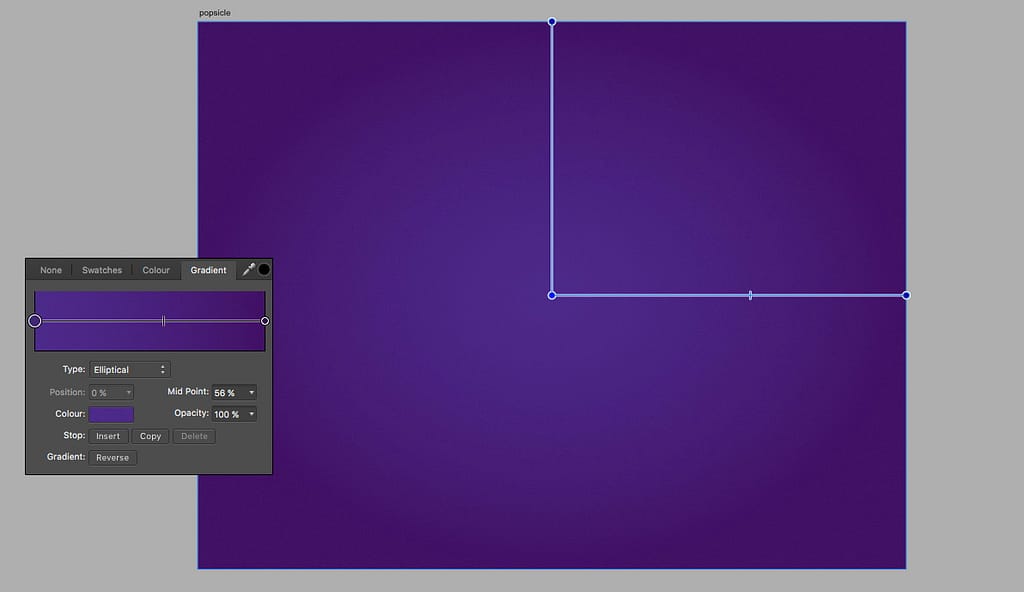 To have a better idea of how my final illustration would look like I added a background. I choose this dark violet Elliptical Gradient to create a nice contrast against the popsicles.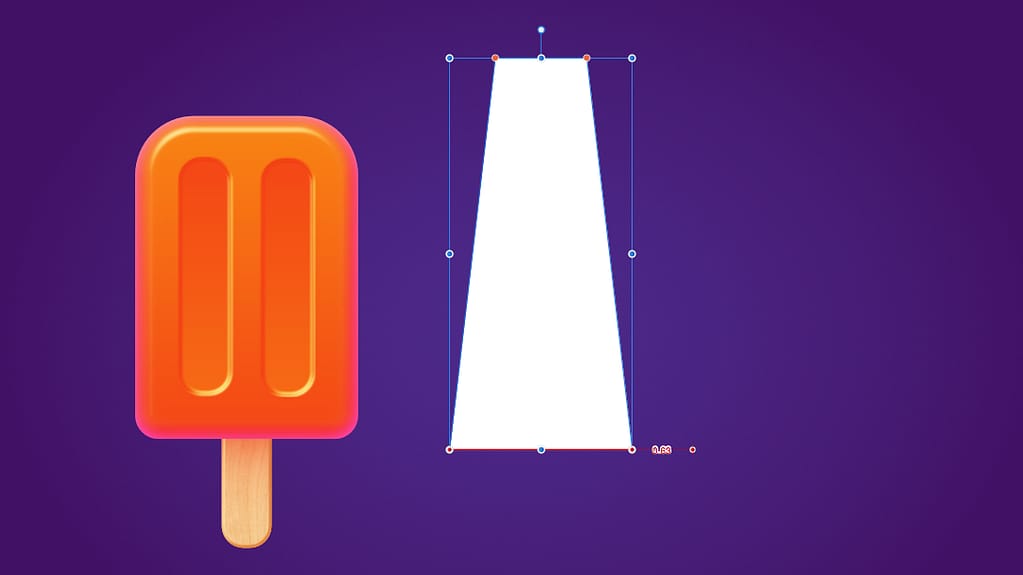 For the second one I want to make one of those cone-like ice pops with color stripes. Draw a shape as shown in the picture above using the Trapezoid Tool.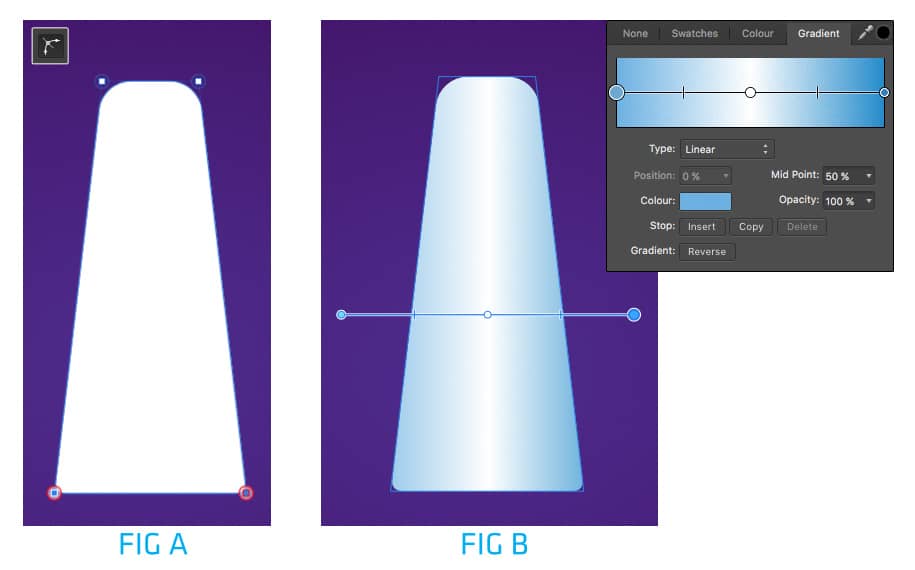 Again, select the Corner Tool reshape the Trapezoid (FIG A) and fill-in it with a gradient (FIG B) using: pure white and 77% (C), 35% (M), the rest 0%.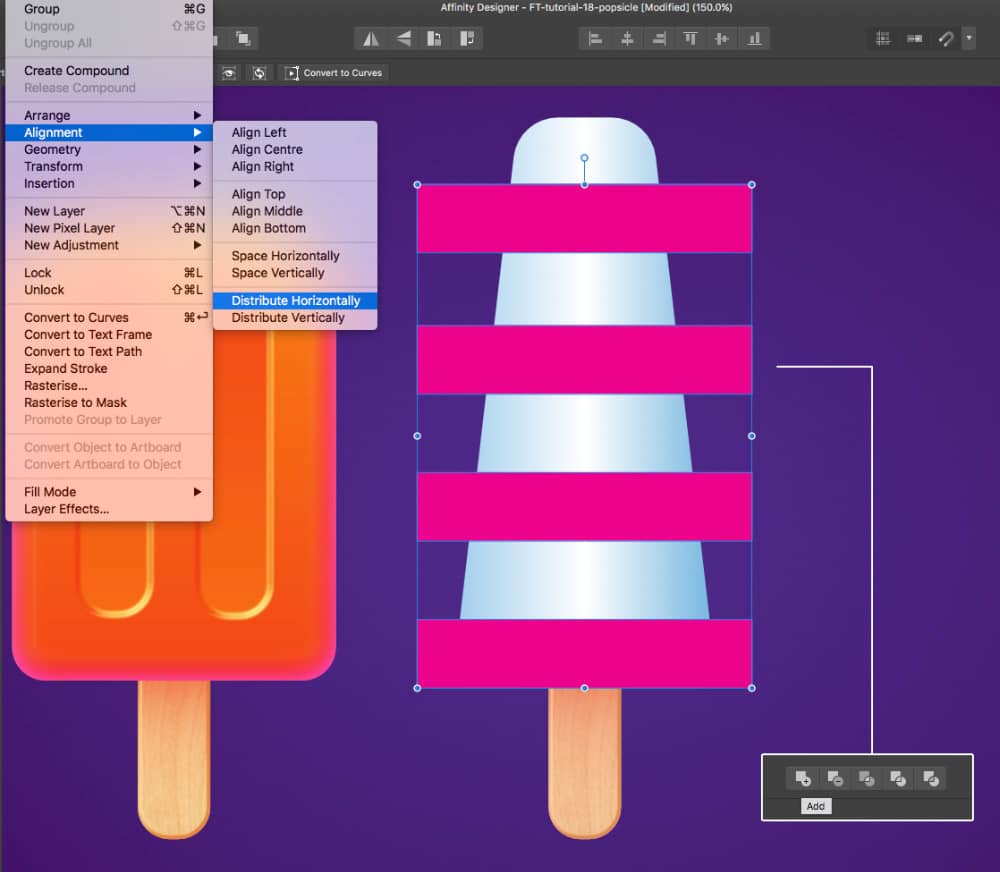 Then using the Rectangle Tool, create four stripes and distribute them through the popsicle shape. Go to the main menu, Layer > Alignment and select Distribute Horizontally. While still selecting the stripes, merge them all using the Add Function from the top Context Menu.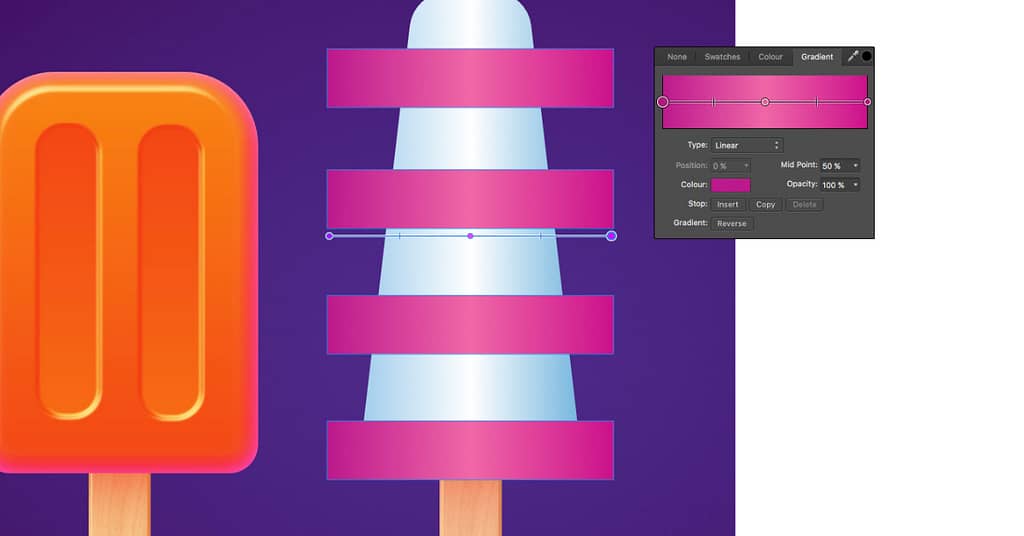 To match the lighting of the base shape, let's add another horizontal gradient using the colors:
A: 25% (C), 100% (M), the rest 0%.
B: 75% (M), and 0% for the rest.
C: 25% (C), 100% (M), the rest 0%.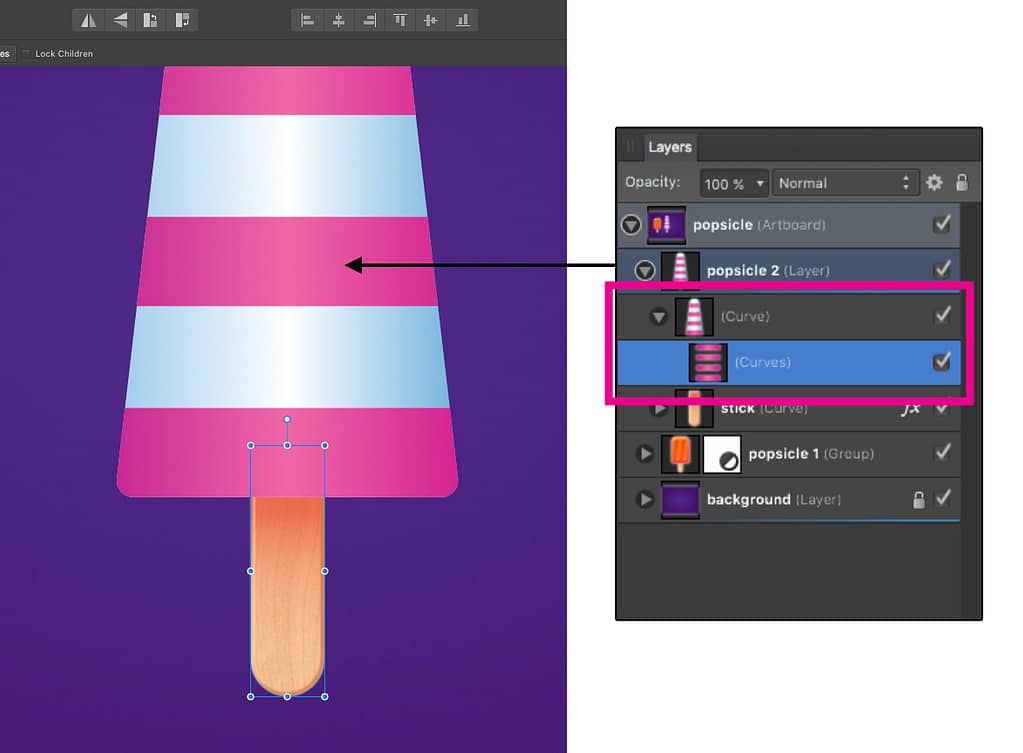 And finally, clip the stripes into the main rounded-trapezoid shape, the same way you did with the wooden texture for the stick. By the way… copy the stick from the other popsicle and put it on this one too.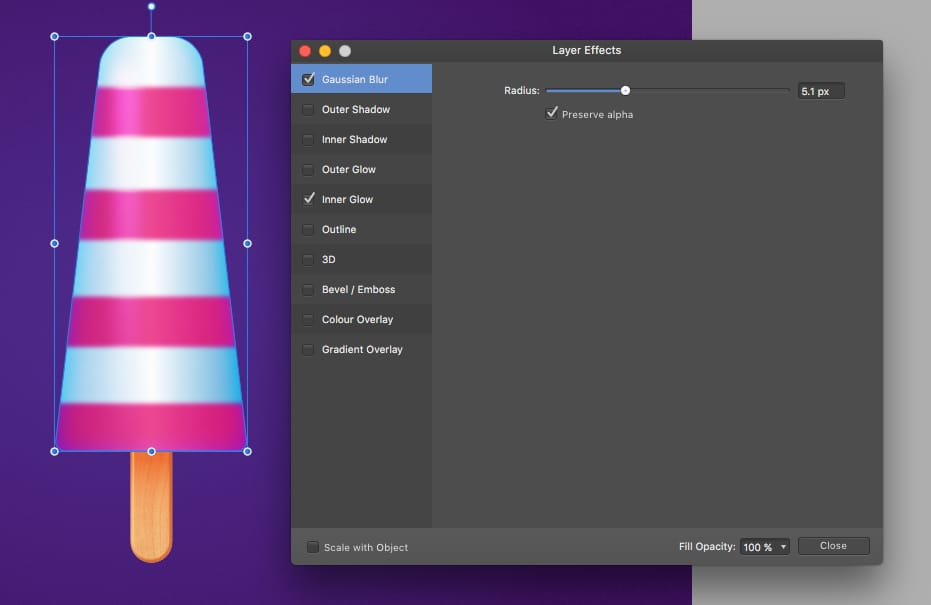 If you want, (Hey, but only if you want, I'm not like your dad or something to tell you what to do ok…) you can add a kinda frozen effect to this one, you can use a Gaussian Blur Layer Effect over the popsicle.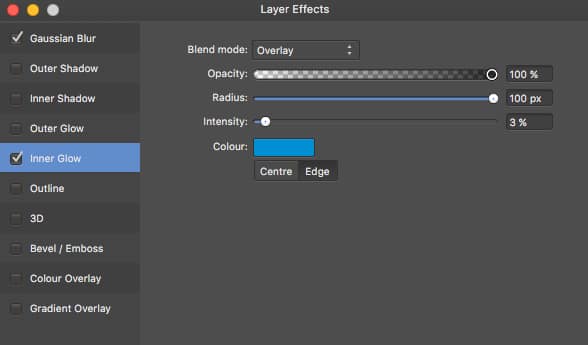 I've also used an Inner Glow Effect to make it appear colder.
4. Homework
Ah, you thought you could get away from here without doing any homework did you? Since I'm a horrible person, I'll let you draw the last popsicle of the group by yourself. Don't worry, you'll only need the same tools combo we've been using across this tutorial: Rectangle Tool, Corner Tool, Gradient Tool and Clipping Shapes.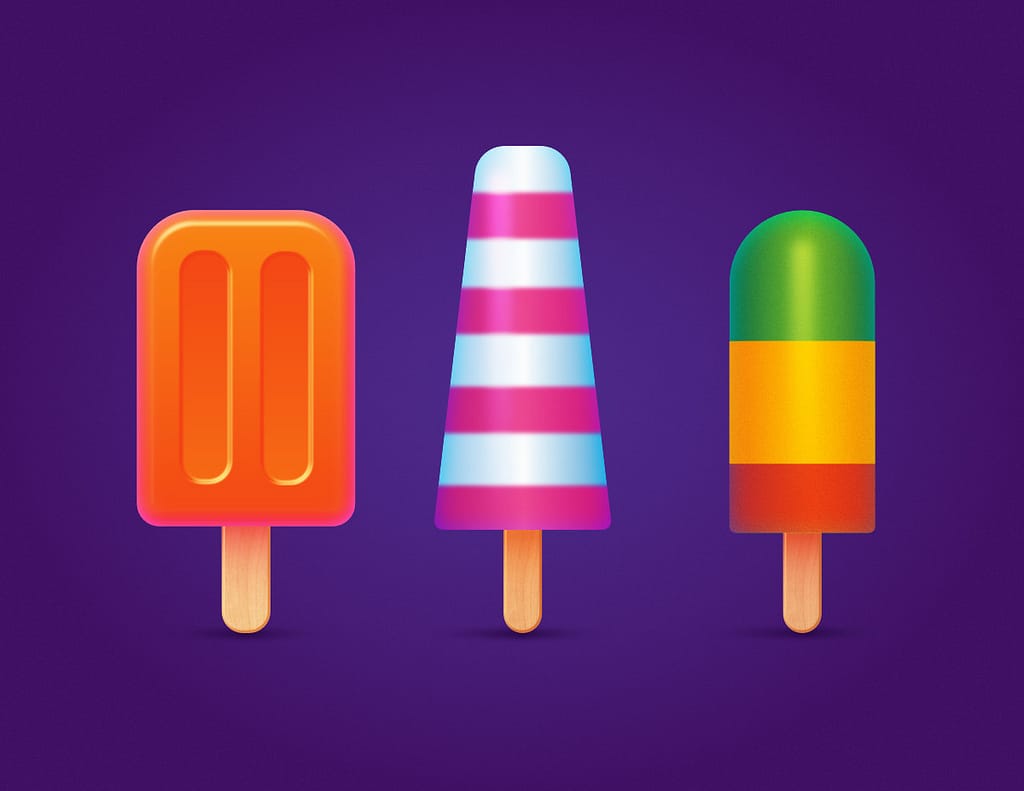 You can create another design if you want. What I need, is to make sure you took notes during the whole tutorial and now you're able to combine shapes and effects in Affinity Designer to create some nice 3D effects without spending hours drawing all by hand.
Please let us know in the comments section if you had any trouble following the steps for this tutorial and we'd be glad to help. Notice that we've changed the whole Toon Lab section and unfortunately, all previous comments (powered by Disqus) were deleted. Now we have our own comments platform. Feel free to register on this new platform to have some nice discussions with our staff and other users 🙂