In this tutorial we're going to learn how, just by using a couple of Designer's tools, we can come up with a very cool metal effect. Keep in mind that this is only an introduction to text effects. In further tutorials, we'll be adding extra complexity so in the end, you'll be able to create more and more realistic results.
However, we need to start somewhere, so without any further blah, blah…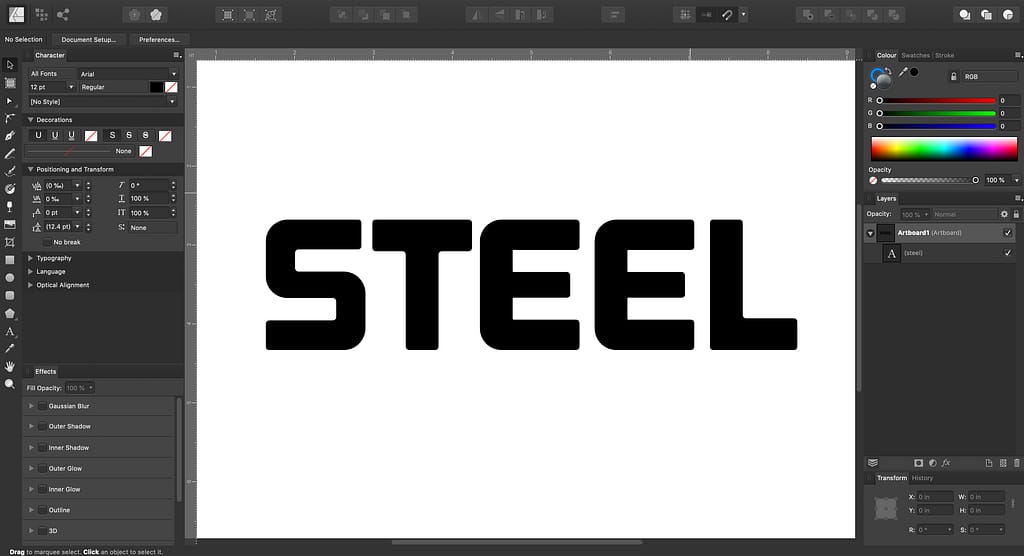 Create a new 10×7 inches document at 300 DPI. Using the Artistic Text Tool, type whatever you want. You can write down a song title, your crush's name, your parrot's name… anything.
If you want to use the cool font I found for this tutorial, you can download it here: Outage Personal License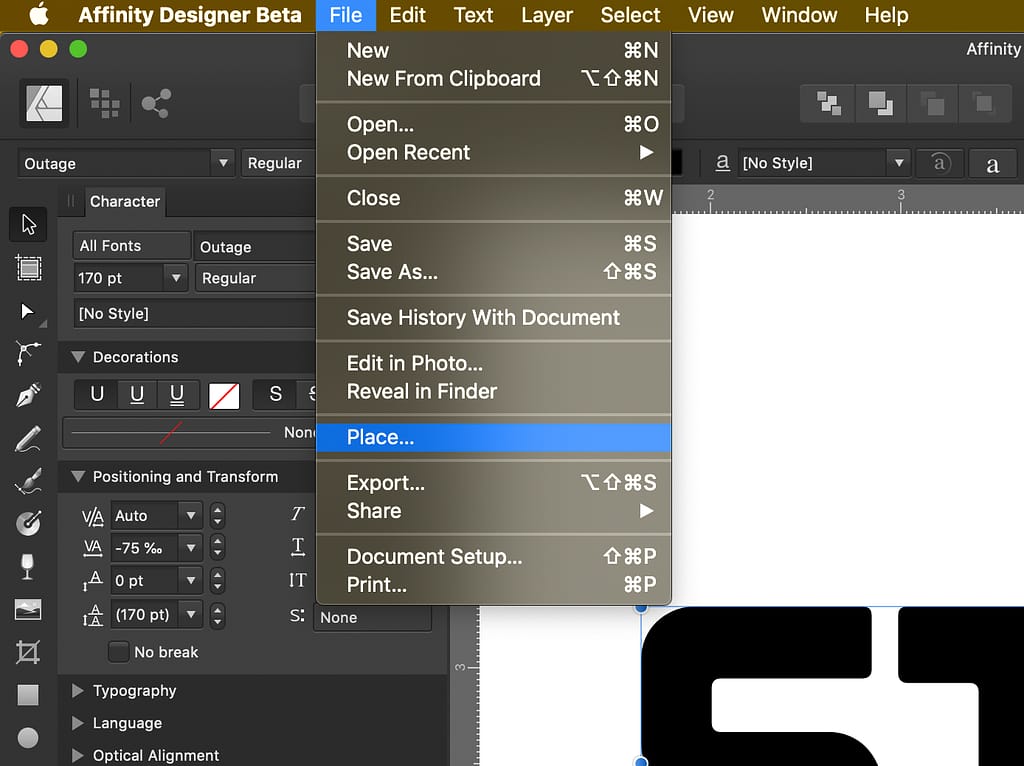 Before we start embellishing our text, it would be really cool to add some texture in the background and get rid of that depressing white void. Go to the top menu, File and choose Place… to add a more interesting metal background.
Download it from here: Brushed Metal Texture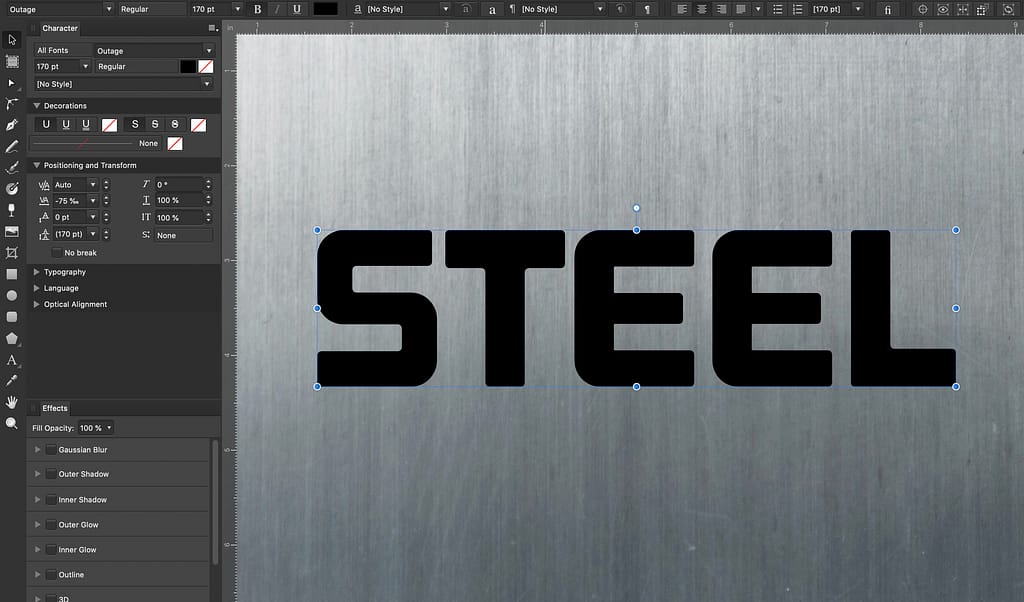 Position it as you please. Preferably, place that texture in a separate locked layer so it won't get in our way during the rest of the tutorial.
Quick Texture Fill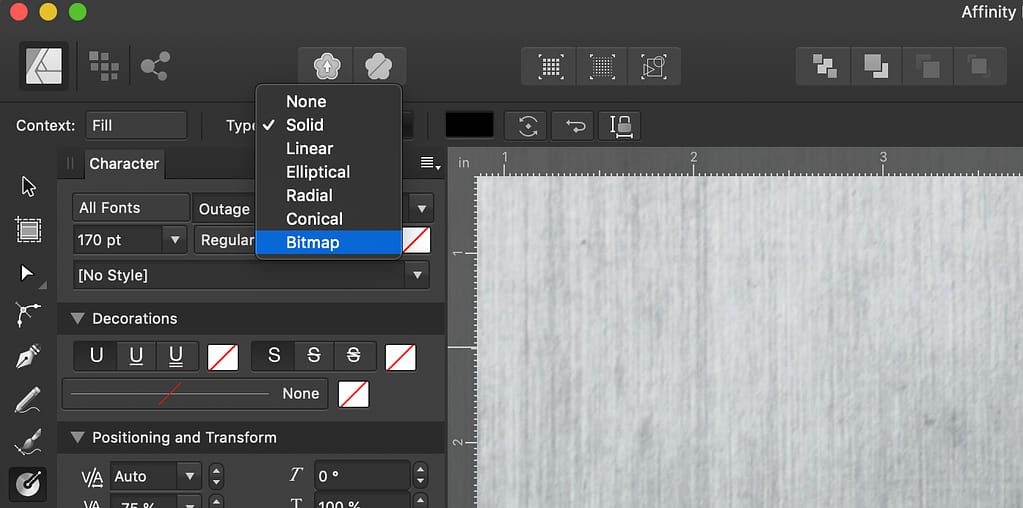 While selecting the text you've jut created a couple of seconds ago, select the Gradient Fill Tool. Move to the Context Menu above and, choose Bitmap as the fill Type.
A browser window will popup. Look again, for the brushed metal texture you've just downloaded.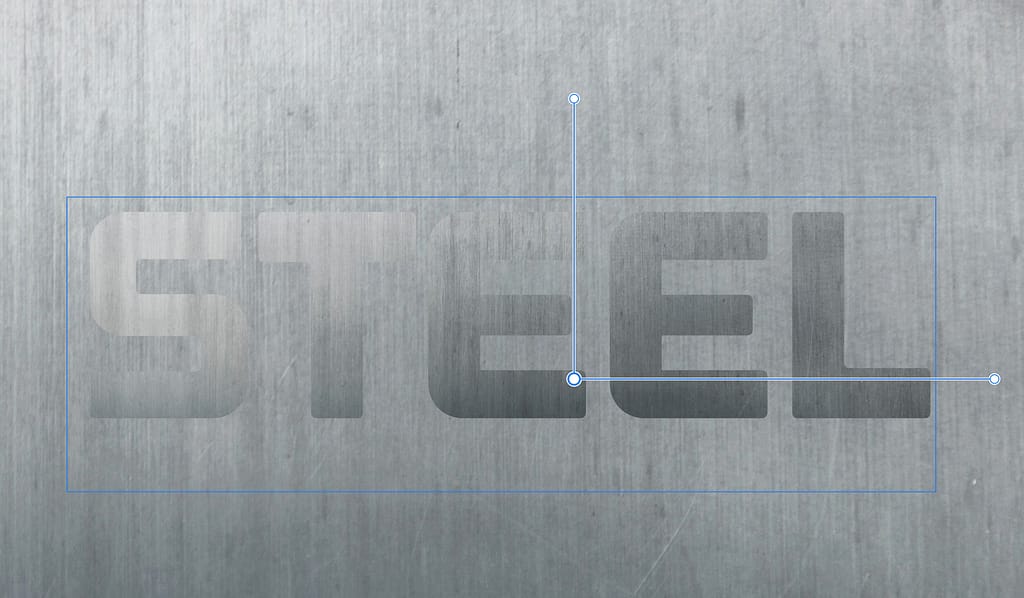 You'll get something similar as the image above. You can manipulate the position and dimensions of this texture by using the transformation handles. If these disappear when deselecting the text, just select the text block again and hit 'G' on your keyboard.

To make sure this texture will tile as seamlessly as possible without spending half an hour of crazy editing, select Mirror from the Extend menu.
Now, we have a nice base to get started.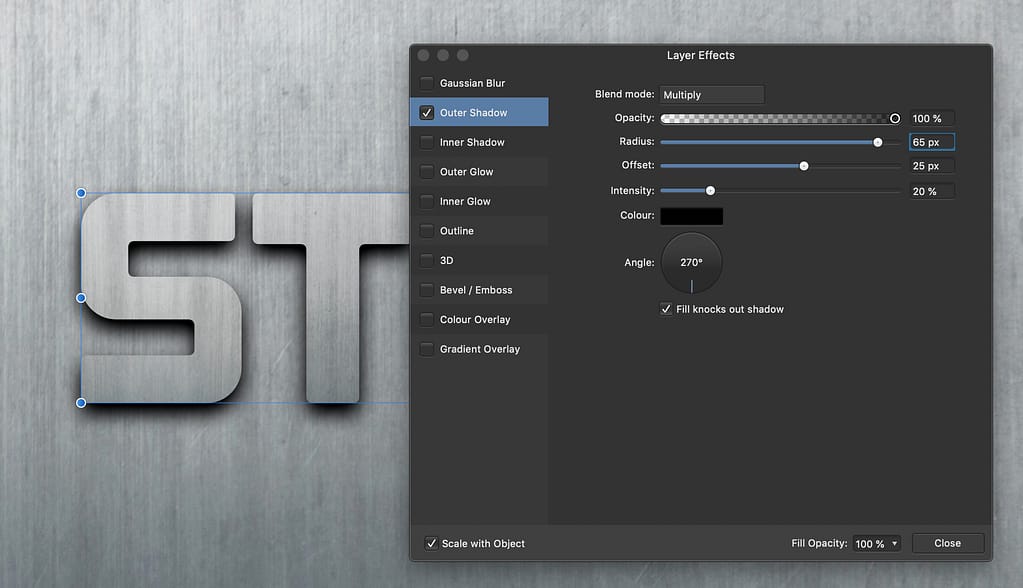 Keep your text selected and from the Layers Panel, select the FX icon located at the bottom. Then, the Layer Effects Panel will appear. From the left menu select Outer Shadow and use these settings:
Blend mode: Multiply
Opacity: 100%
Radius: 65px
Offset: 25px
Intensity: 20%
Color: Black
Angle: 270°
Tip: Tick the Scale with Object option at the bottom-left corner of the panel, to make sure your effects settings will scale proportionally as you resize your object.
Adding 3D effects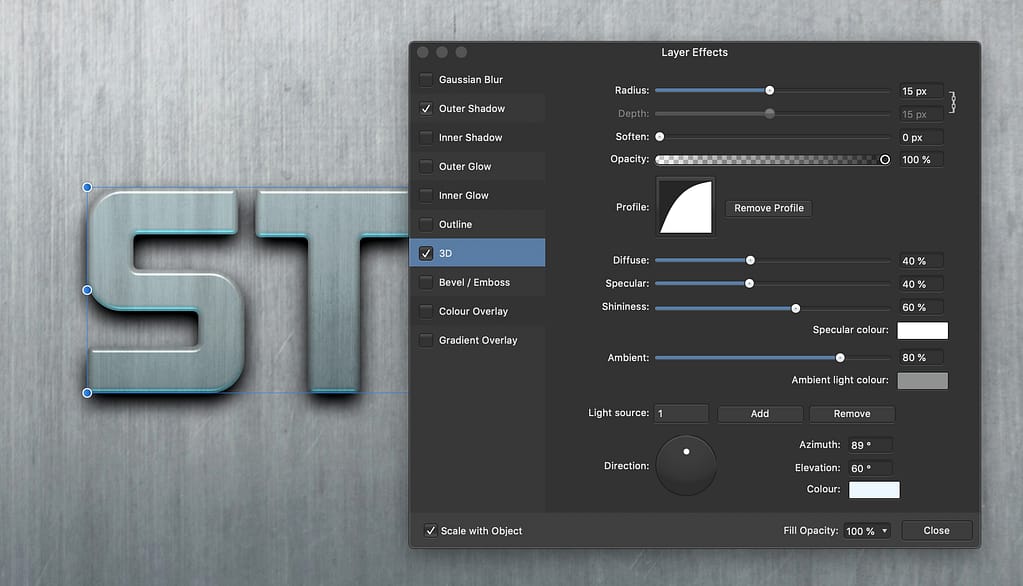 Now, let's add some lighting effects to create a 3D feel. Select the 3D option from the left menu and use these settings for the first section:
Radius: 15px
Depth: 15px
Soften: 0px
Opacity: 100%
Modifying Profile Curve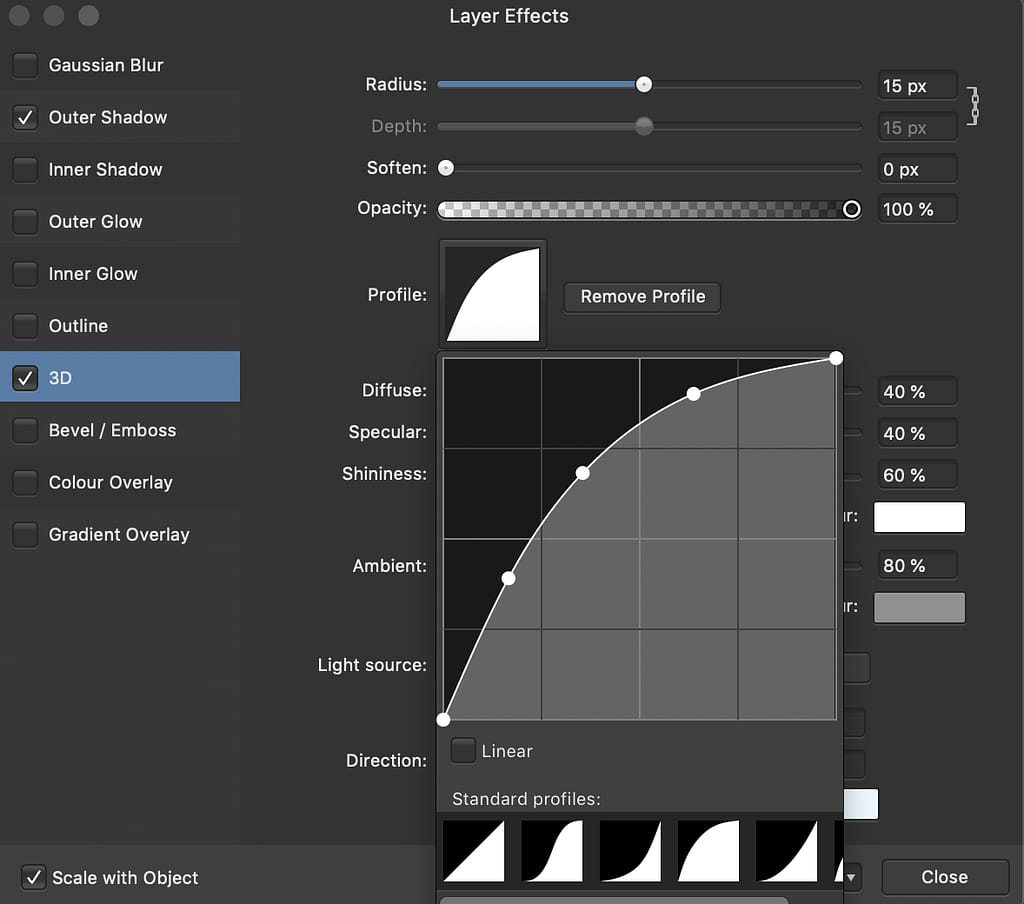 Then, click the Profile graphic and draw a curve similar to the one shown above.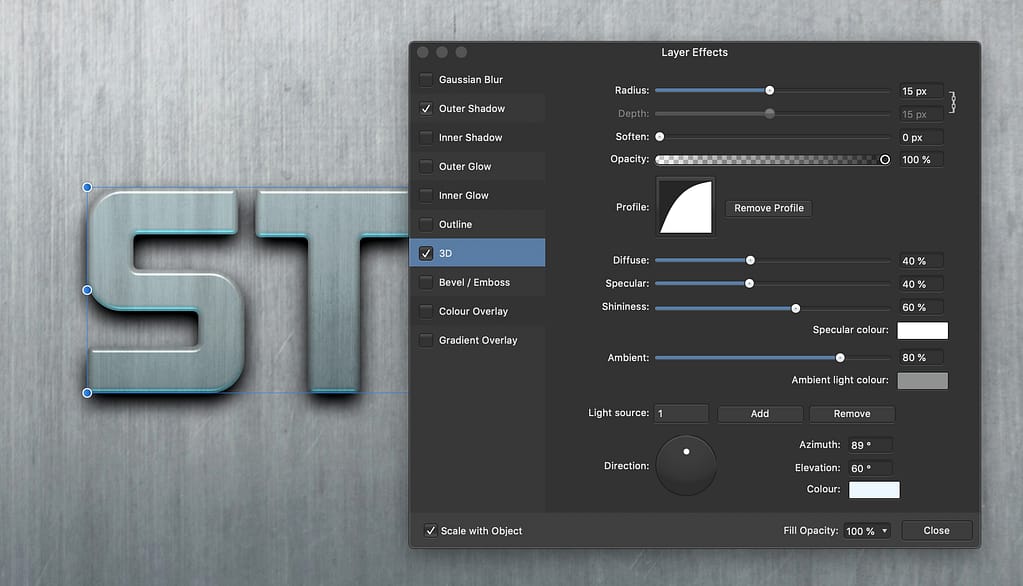 Modify the rest of sliders as follows: Diffuse: 40%, Specular: 40%, Shininess: 60%, Specular color: White, Ambient: 80% and choose a medium grey for Ambient light color.
Choosing Light sources
We'll add two light sources to give certain drama to our text.

On Light source 1, type 89° for Azimuth, 60% for Elevation and a pale blue on the color input. Choose RGB sliders and use these settings R:236, G:248, B:254.

Then, add a second light source and use these values: Azimuth -90°, Elevation 12° and, type these values for the RGB sliders 0,194, 232.
Let's get extra Fancy
Looks great so far huh? Let's add some cool chrome finish to the borders by creating an extra shadow/reflection effect using another effect from the Layer Effects panel.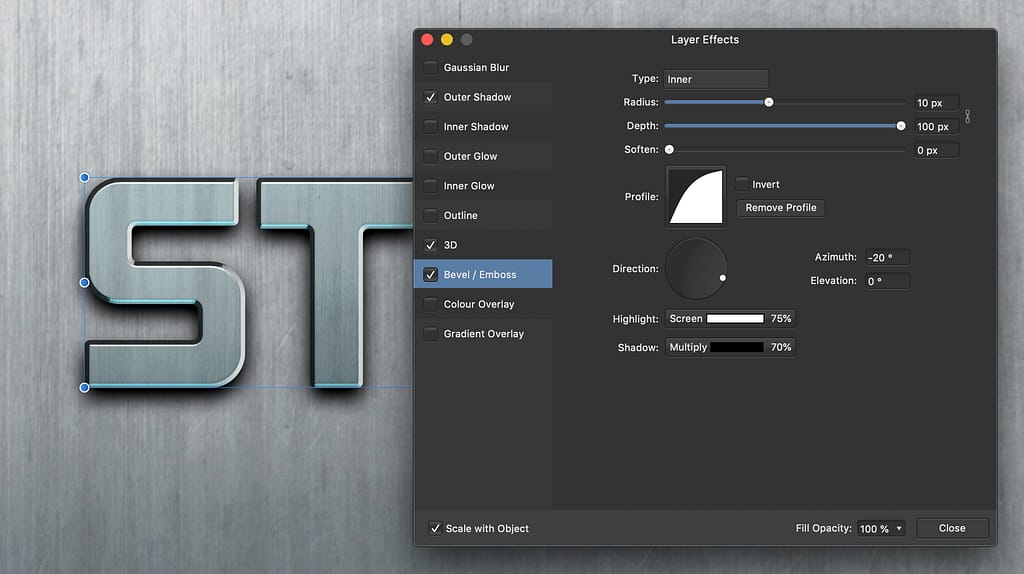 Activate Bevel / Emboss too and, use these values for the first four parameters:
Type: Inner
Radius: 10px
Depth: 100px
Soften: 0px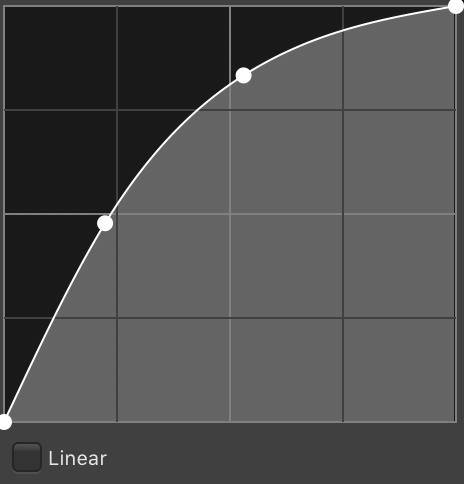 When you get to the Profile curve, draw something similar to the graphic above. Then, modify the Azimuth input to -20°, Elevation 0°. Leave highlights white in Screen mode and at 75% opacity. Shadow in Multiply mode at 70% and leave it black.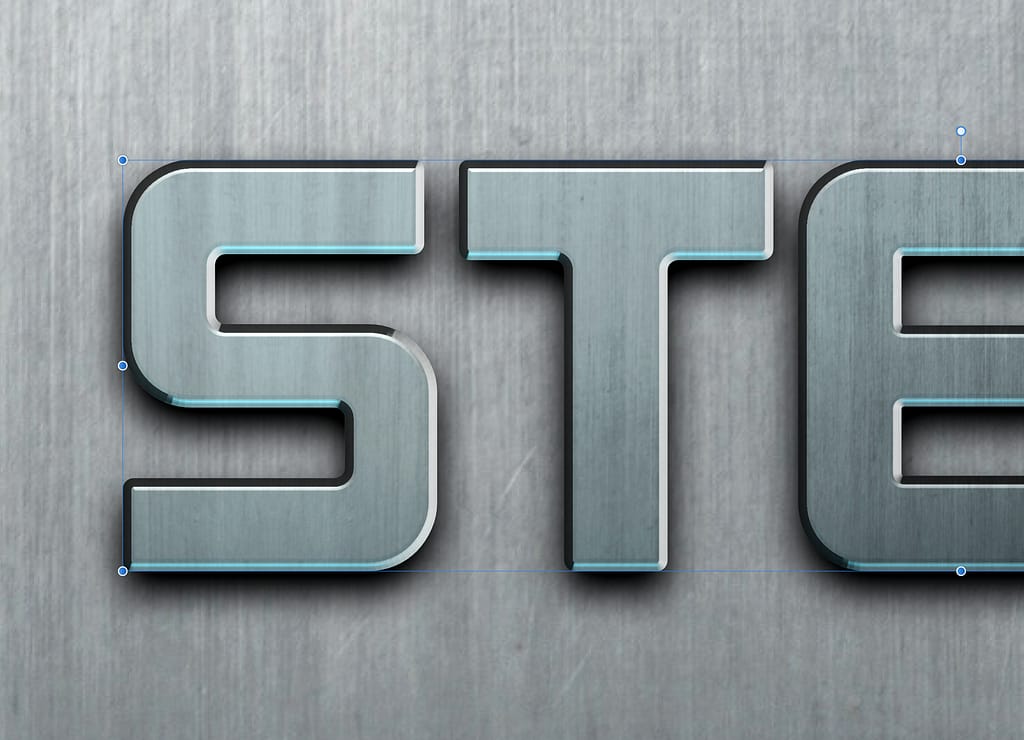 See how easy it is? A couple of minutes before, we just had a dumb text over a white background. Now, we have a shiny metallic dumb text over a cool metal background…
Now, seriously. Using this simple texture, Outer shadows, 3D and Bevel / Emboss combo only, we are able to create many variations and materials just by changing textures and colors. Layers Effects may seem daunting to tackle at first, but if we break it down little by little, one step at a time, you'll be able to master every single parameter, without even thinking about it.
I hope you've enjoyed this little tutorial. We'll discover more useful secrets next time, while we explore other Layer Effects features.