The latest installment of one of Fx Monkey's classic Faux 77 for Affinity Photo, reaches its first major update and it comes loaded with a bunch of tools that will help you recreate the look of vintage photography from the sixties and seventies.
Useful Links
Welcome to PhotoLab
Our favorite addition to Faux 77 is, without a doubt, the entirely new PhotoLab. It features a set of Macros designed to be used together. Instead of giving you a final result on their own, these Macros add small bits of color edits to build upon each other and create a signature look yourself.
We've split PhotoLab into four suggested categories or steps. The idea is to pick one Macro per step to end up with a unique look after Step 4. A pretty clean and straightforward process.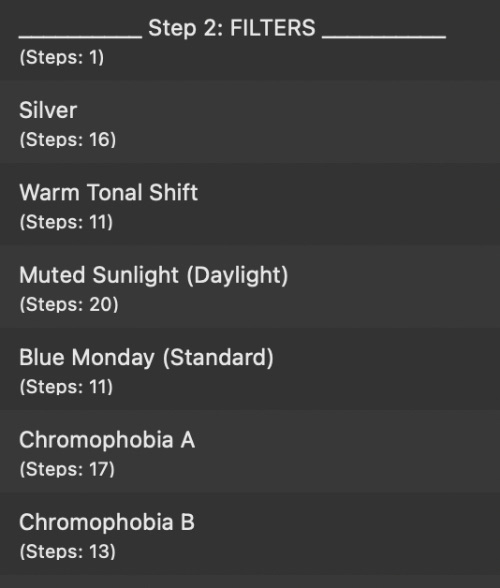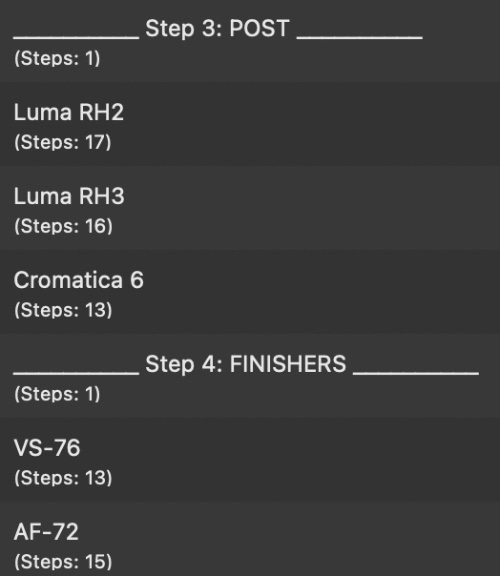 PhotoLab Step 1: Film
Let's see a quick example on how to use PhotoLab Macros from Faux 77 for Affinity Photo.
First, we are going to choose a Film type. These presets are emulations based on physical color characteristics of Kodak, Fuji, Agfa and similar popular films from that era. We can select one or more of these Macro presets. In this case we are going to pick the one named: TVS Colors A (Standard).
This Film preset will generate four Adjustment Layers. You can play around with their opacity and visibility to attenuate the way they affect your photo. You also have total freedom to manipulate each layer's settings if that's what you need.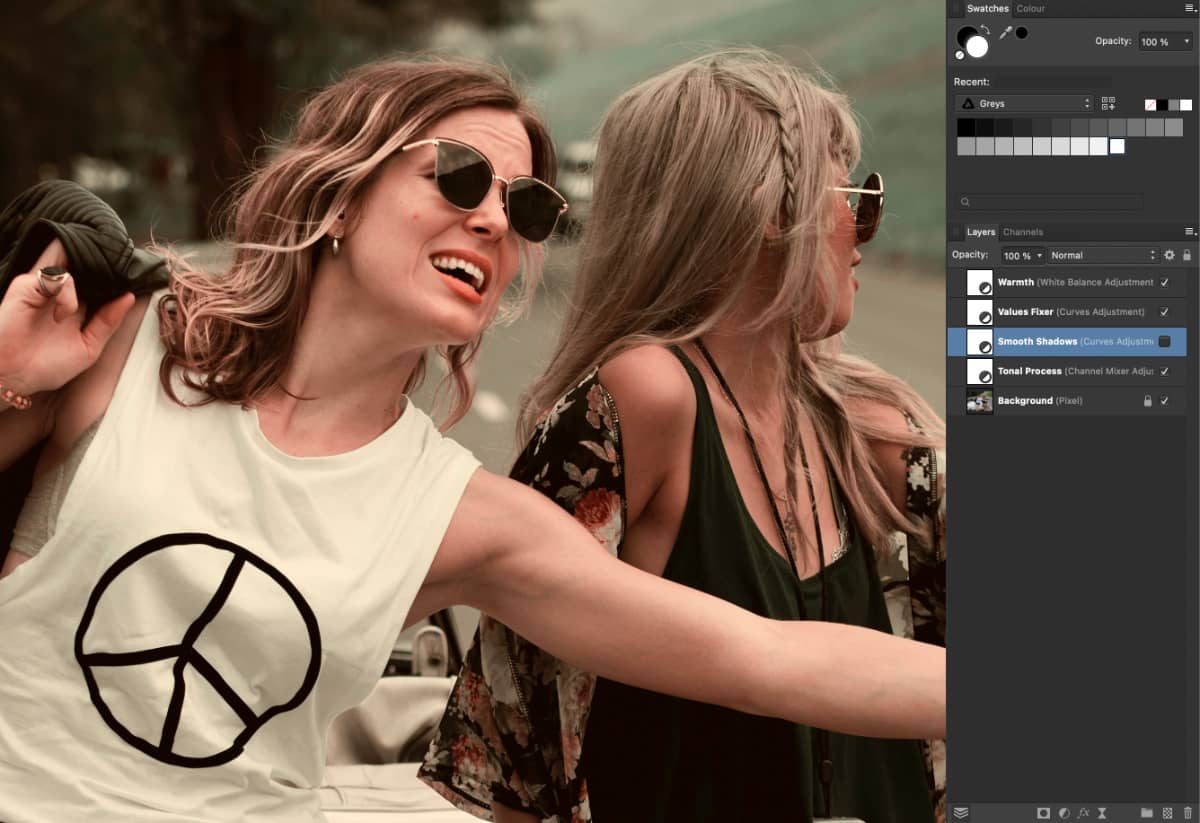 On the images above, we've hidden two layers. Smooth Shadows on the left image and Values Fixer on the right . Without any time-consuming tweaking, we're getting two entirely different results. You can dim the opacity slider instead to obtain a subtler outcome.
So far, we've only applied one Macro, yet we have seen three different results already. One, with all resulting layers and two more, after hiding two layers alternatively.
PhotoLab Step 2: Filters
Macros from Step 2 will alter your colors, in a similar way plastic or glass colored filters affect colors when attached to a camera lens. Of course, Faux 77 focuses on recreating cheaper color filters.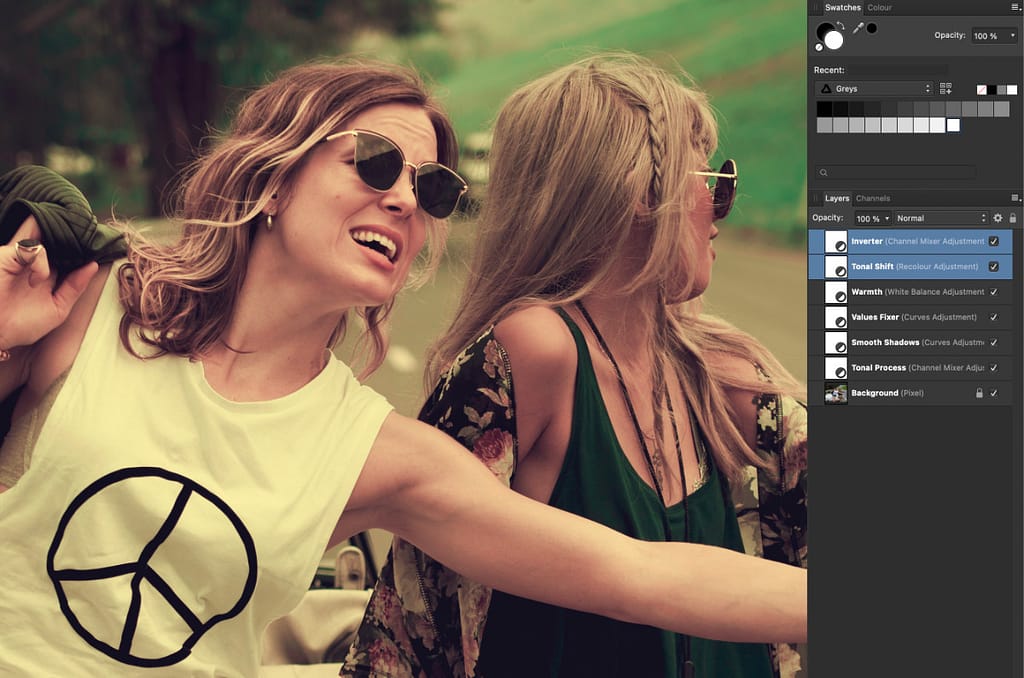 Above, we've chosen the Macro labeled: Warm Tonal Shift. This Macro automatically adds two more Adjustment Layers on top of the rest. You can manipulate these layers the way we did in the previous step.
All filters can be stacked upon each other for a more extreme result, just select another Macro and will be added on top of the rest. There's always the Undo command, Opacity and Visibility tick box, to experiment with different outcomes. Nothing to break here.
PhotoLab Step 3: Post
Macros from Step 3, will add an overall mood and will give a finished look to your photos. Think about this step like the developing process itself. In this category we have three post-production Macros to choose from,.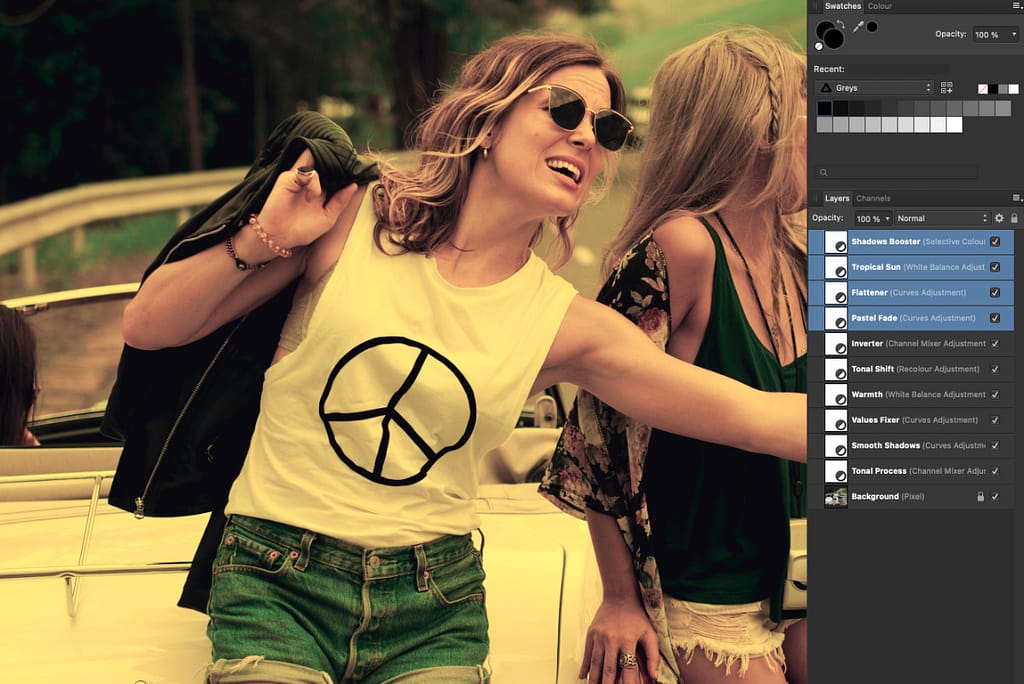 To add the final touch, we've chosen the Macro Luma RH3. This Macro gives our photo a warmer tone overall. However, it has taken away the pink-ish tones from our models' skin. Let's fix that quickly in the next step.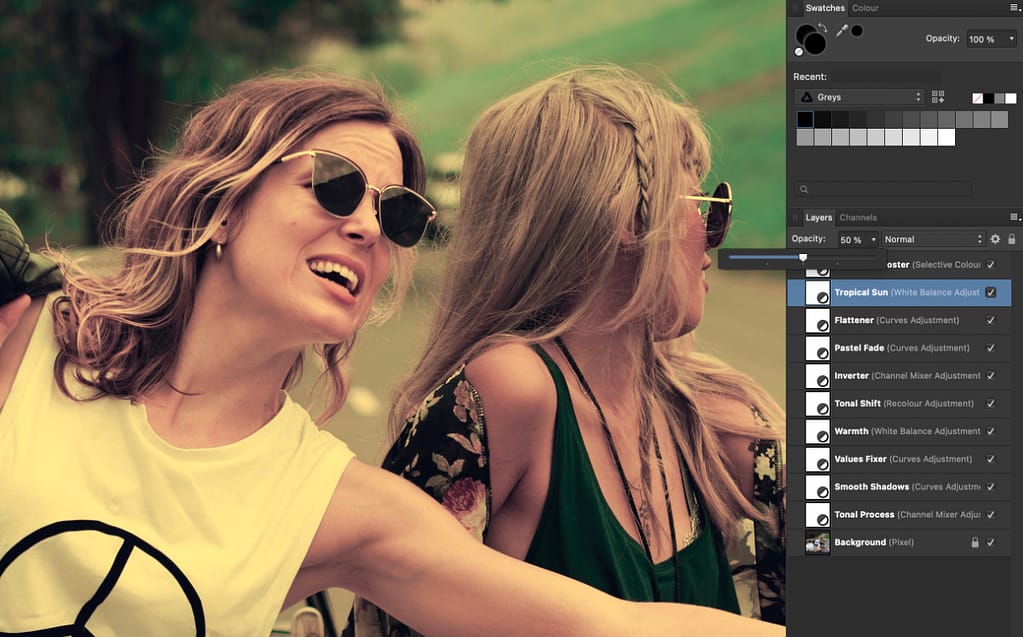 By lowering the Opacity of the Tropical Sun layer to 50%, we've been able to bring back that pastel character to our models' skin. Remember, each photo has its features, so which layers you'll need to tweak or hide will entirely depend on the image itself. There's no formula to obtain the same result on different photos. That's the beauty of it.
PhotoLab Step 4: Finishers
And last, but not least, we have our Finishers. These Macros will bring extra warmth, grain, vignetting and extra depth of field to your images. There are two of them, designed to be used at the same time.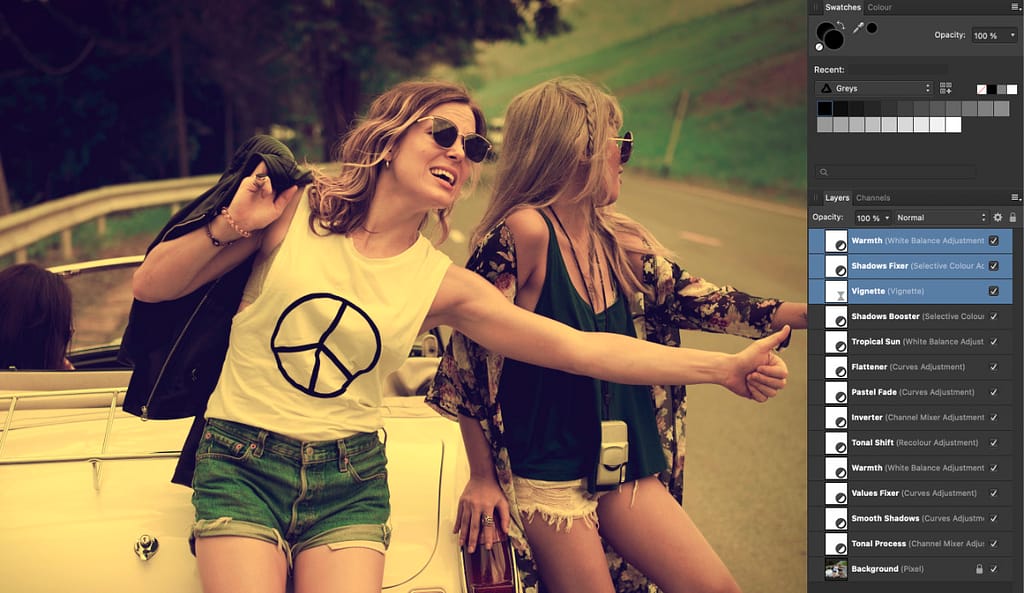 The Macro VS-76, will add a vignette, an extra yellow colorization overall and will tint your shadows with a subtle blue tone. Play around with these layers Opacity to find a sweet spot you like.
Finally, the Macro AF-72 will add a Live Depth of Field filter, that you can adjust to spot the right focal point of your photo. This Macro also contains a custom-made grainy procedural texture: Analog Grain.
Without repeating any step, we ended up with 15 non-destructive layers on top of our original photo. Just imagine the possibilities you'd get if you just toy around with all these layers' Visibility and Opacity. Not to mention fine-tuning their specific settings.
PhotoLab Macros from Faux 77 offers an unbeatable flexibility in comparison with the previous version of this pack.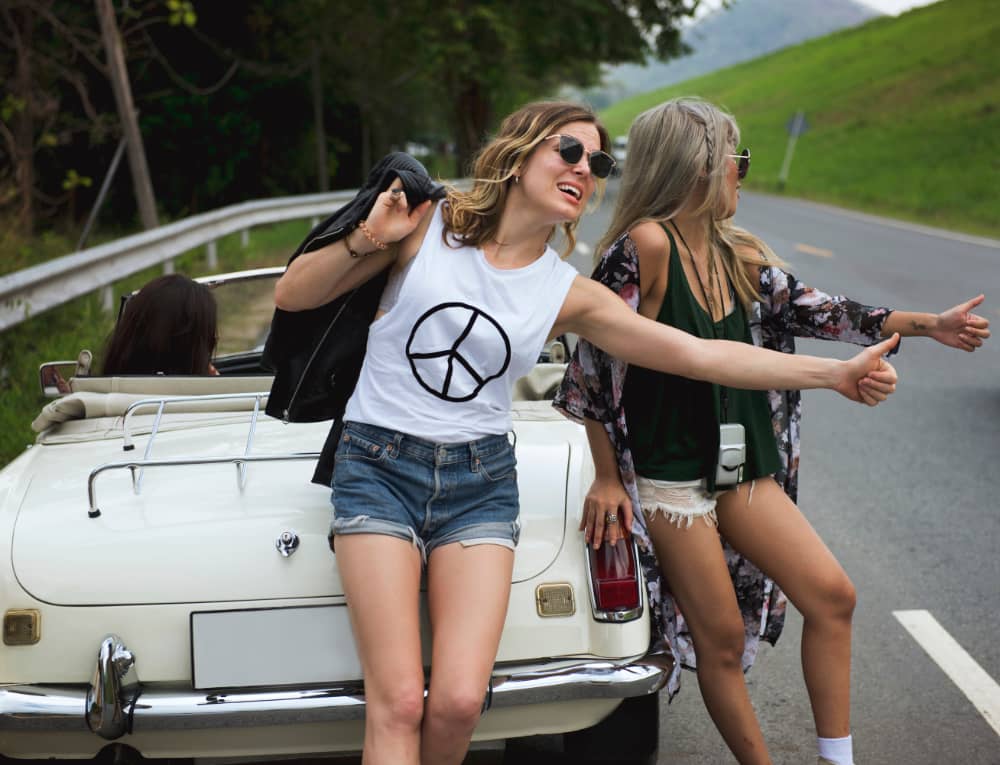 Above, the final color result. Notice how procedural grain stands out in a more natural fashion. Also, check how this type of grain enhances vignette and DOF layers, resulting into a more believable vintage photo equipment effect. Are you still here? Great, let's get onto one of our favorite parts of the process: texturing.
Get Faux 77 Presets Guide
For a comprehensive visual reference, we've created a document with a preview of every color preset included in our latest Faux 77 for Affinity Photo update. DOWNLOAD IT HERE.
Faux 77 Overlay Assets
Faux 77 features 16 ready-to-use image overlays. These high-resolution Assets include custom-made light leaks, bokeh lights, dust, scratches, and paper textures.
Light Leaks and Bokeh Overlays
Faux 77 Overlays will give your photos the final touch to awe your audience with evocative and nostalgic vintage-like photos. To use them, drag and drop any Asset onto your document. Faux 77 Overlays will blend automatically with all underlying layers.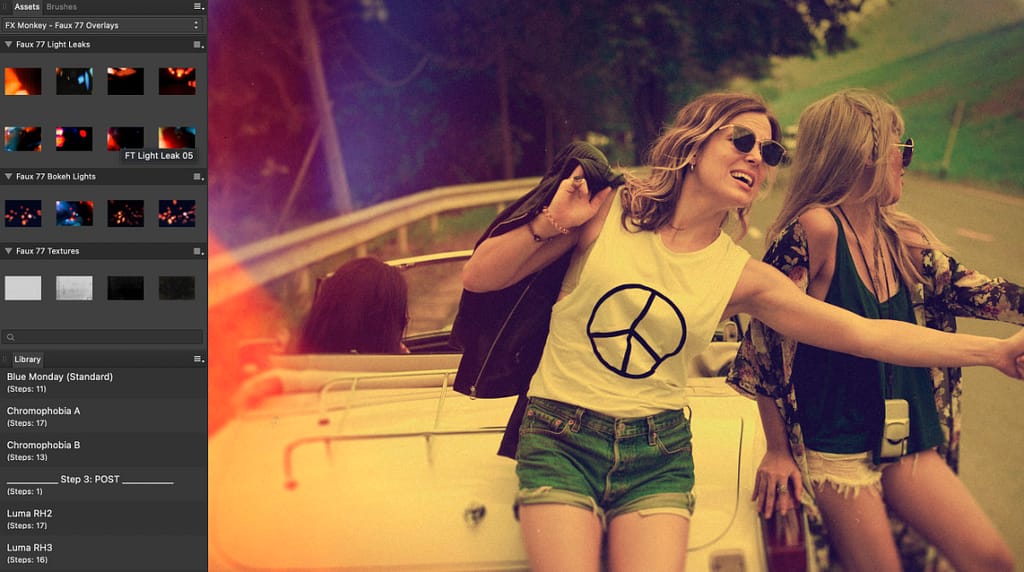 On the image above, we've used the Affinity Asset FT Light Leak 05. As you can see there's nothing else to do, quick and convenient.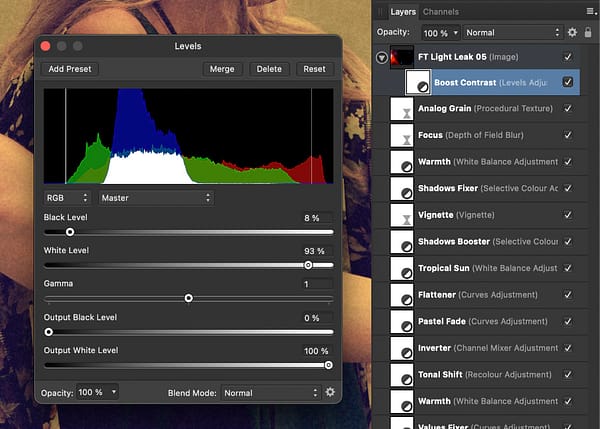 All Faux 77 Overlays have been stored with a suggested Blending Mode and Opacity, so you'll see its effect instantly . Also, most of our Assets come with an Adjustment Layer attached to them, so you can fine-tune the way it integrates into your document using less clicks.
TIP: There's no need for an Overlay to go on top of all layers all the time. Try placing your Overlays between other Adjustment Layers for smoother integration with your document's overall lighting.
Try the other 15 lighting overlays to see which one fits better with your image. You can even combine more than one and create more complex light effects setups.
Texture Overlays
The icing on the cake comes with the last group of Affinity Assets named Faux 77 Textures. We've designed these textures to be used all at once. Each one of them offers a unique feature to add an organic finish to your final image. We recommend dragging one by one onto the artboard in the same order they've been stored.
We recommend to play around with these Overlays Blending Modes, Opacity and Adjustments to make them really fit with your photos. You can use only one of them, all of them, different instances of the same texture in different positions, anything goes.
We hope you've enjoyed this Faux 77 PhotoLab for Affinity Photo walkthrough. You may also be interested in learning how to install Tone Maps in Affinity Photo as well.